Buddhist group plans a regional retreat
By KELLY FITZGERALD, Orange Your Guide, November 25, 2004
Orange City, Australia -- Meditation, grief counselling and drug-free treatment are some of the precepts of the Orange branch of a Buddhist group, which is currently working towards establishing a retreat in Newbridge.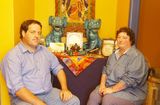 Charmaine Highett is based in Orange and is fundraising for the Blue Padma Retreat, which will focus on drug free healing of depression, anxiety, anger, fear, addictions, grief and loss.
The Orange branch is working with groups from Katoomba, Lithgow and Bathurst under the registered charity Padma Care.
Padma Care has purchased a run- down property on which to establish the retreat, but the groups are now fundraising to renovate and furnish the building.
Charmaine said once established, the retreat would be a valuable facility for people throughout the region.
"We try to teach them how to do meditation and think calmly, the basics that people don't seem to know how to use to take control of their lives," she said.
"We'll also be able to provide death counselling, and not so much the physical care, but providing emotional care and preparing people for death."
The Orange group is currently seeking financial and other kinds of support from the community.
They are also holding garage sales to fundraise, so anybody who has items ranging from tools, furniture, vehicles or building materials, can donate these to be resold or used at the retreat.
Charmaine has also begun teaching Buddhist scripture at Orange Public School, and is interested in extending the teaching to other schools.
Anyone interested in donating to the retreat or finding out more about scripture can contact either Charmaine Highett or Mark Jago on 6362-1105.