Buddhist finds inner peace in Dandenong
By Shaun Inguanzo, Dandenong Star, June 1, 2006
Buddhist lama Khentrul Rinpoche will visit Greater Dandenong and draw on several different Buddhist streams to teach others how to lead a happy life.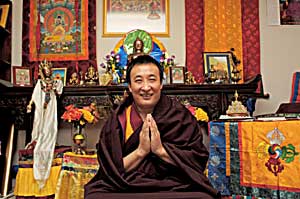 Dandenong, Australia -- KHENTRUL Rinpoche fled Tibet several years ago to escape the enforced Chinese rule. Having found happiness in Australia, the Buddhist lama – which is a title for a Tibetan religious teacher – now wants to spread the feeling to Westerners through Buddhist teachings, including a series of talks in Greater Dandenong this month.
Rinpoche describes his practice as 'Rime', or non-sectarian. "There are five major Buddhist traditions in Tibet now, and I studied them all," he said.
While some settle for one tradition, Rinpoche said it was essential to his goal of becoming a Buddhist master that he understand and teach all Buddhist traditions.
"If I experience the different traditions, then it is much better for me," he said.
The 38-year-old Rinpoche said he was introduced to Buddhism at the age of five, after lamas believed he was the reincarnation of a late Buddhist teacher. He currently resides at the Rowville-based Tibetan Buddhist Rime Institute, which he co-founded with his first and closest Australian friend, Tanya O'Brien, who is a Buddhist student.
"When I first came to Australia in 2003, I didn't have any friends, no connections," Rinpoche said. "It was a difficult time, then I met Tanya and her boyfriend, and they helped me with everything."
Rinpoche first studied English – a language he had never heard in Tibet – and then began teaching.
"My English is getting better, and people now understand me, so I started teaching Buddhism ," he said. "But I teach also to non-Buddhists, not just Buddhists."
Those interested in hearing more about Rinpoche and his teachings can attend his forthcoming seminars. The first will be held on Tuesday, 13 June, at Carwatha College, Browns Road, Noble Park, from 7.30pm to 9pm, and is titled, ' finding a happy life from the subject, not object'.
The second session will be held on Friday, 16 June, at Chandler Community Centre, Keysborough, from 7.30pm to 9pm, and is titled, 'how to deal with love and relationships'.
Entry to either session is $10 for adults, and $7 concession. For more information, contact the institute on 97557337.