His Holiness' second coming
Geelong Info, June 24, 2006
Geelong, Australia -- THE Dalai Lama will visit Geelong next year. Buddhism's global figurehead will return to the bay city on June 11, 2007, as part of a tour of Australia and New Zealand.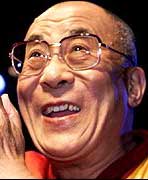 The exiled Tibetan leader will bless the new Drol Kar Buddhist Centre at Paraparap near Bellbrae, and is also expected to host public events at Skilled Stadium. About 15,000 people turned out to listen to the Dalai Lama at his 2002 Geelong visit, with organisers hoping for a crowd of up to 20,000 next year.
Drol Kar monk Venerable Tashi said yesterday the Dalai Lama's visit was a great honour. ``His Holiness is one of the most famous leaders in the world and still he accepted our request,'' he said. ``We all are very excited.''
Geelong Interfaith Network chairman Monsignor James Murray said the Tibetan leader's visit would benefit people of all faiths. ``The Interfaith Network would welcome the opportunity to meet with the Dalai Lama because he's a great symbol of peace in the world and his willingness to come out here is a great encouragement to us,'' he said.
Geelong Mayor Peter McMullin also welcomed the announcement. ``The Dalai Lama commands the respect and attention of people from all walks of life, and it's certain his visit will bring large numbers of visitors to Geelong,'' he said.
The Dalai Lama is considered the 14th reincarnation of Avalokiteshvara, the patron saint of Tibet. He was born Lhamo Dhondup to a farming family in rural Tibet and now goes by the name Tenzin Gyatso.
Buddhism is Australia's fastest-growing religion, expanding by 79 per cent between the 1996 and 2001 censuses.