Buddhist way of life kindles curiosity
Bendigo Your Guide, November 20, 2006
Bendigo, Australia -- More than 1000 people took the opportunity to explore the Atisha Centre yesterday and learn more about the Buddhist way of life.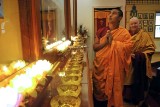 << BLESSED: Geshe Konchok Tsering and Venerable Paldron pray during the open day.
As part of the centre's annual open day, visitors toured the Great Stupa site, the Relics Exhibition Centre and Thubten Shedrup Ling Monastery.
Hundreds gathered in the Atisha Gompa to take part in a spiritual program, with sessions including an introduction to Buddhist meditation and a public talk on `The essence of the Buddhist path'.
Children enjoyed Buddhist stories, rock painting, sand pictures and drawing, while older visitors browsed book, jewellery and craft stalls.
Atisha Centre director Ian Green estimated about 1500 people had visited to attended the open day.
"A lot of people are really interested in what's going on here," he said.nts They hear about the Stupa and so forth," he said.
"They're just curious to see what's here - that's the main thing. "To see what Buddhists believe in and what they don't believe in.
Mr Green said many of the people who attended an open day would come back the following year.
"Whether they're interested in Buddhism or spiritualism, it doesn't really matter. "Often they're just interested in what's happening in Bendigo.
"It's quite a special thing that's happening."Mr Green said public feedback had been fantastic, with many interested to see the initialnte development on the Great Stupa site, which is scheduled for completion by 2010.
"With the steel works going up - people have been really impressed by the size of it," he said.
Many visitors also inquired about the Dalai Lama's upcoming visit. "Most people know that he's coming now and want to know what he's going to be doing here," Mr Green said.
During his June, 2007, visit the Dalai Lama will bless the Great Stupa site and consecrate the giant statue of Guru Renpoche outside the Relics Exhibition Centre.