Suits in no rush to become enlightened
by Linda Morris, Sydney Mornign Herald, May 21, 2007
Sydney, Australia -- THE Federal Government may or may not be rolling out the welcome mat for the Dalai Lama - and Tibet's exiled spiritual leader is also struggling to enlighten Sydney's business leaders.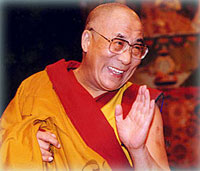 << The Dalai lama 11 day-June visit to Australia will take him to Perth, Melbourne, Canberra, Brisbane and Sydney
Organisers of a business forum at the Wentworth Sofitel Hotel, one of the keynote fund-raising events of the Dalai Lama's 11-day Australian tour next month, have sold 235 of the 500 tickets.
By contrast, a Perth business forum featuring the 71-year-old Nobel Peace Prize winner was sold out within six weeks. Bookings have already closed at four public events.
Organisers say that they are unfazed by the slow response, and are confident momentum will build as tour publicity begins.
The June 14 Business Leaders' Forum Luncheon - for which tickets range from $495 a single to $20,000 for a "benefactor table" of 10 - has been billed as a chance to hear the Dalai Lama's "unique perspective on the challenges faced by business leaders in today's highly competitive environment".
The national marketing manager, Maryanne Cain, said the forum had been priced to raise $250,000 towards the costs of two free public talks in the Domain, including a tribute concert on Friday, June 15. Unlike other speaking events, forum tickets are not tax-deductible.
"We're not a business; we are not here to make a profit. We are here to fund a national tour, and it's tricky to meet our financial obligations and stage huge free public talks, and we are relying on the generosity of the Australian public and business."
Paul Ritchie, the public affairs manager of the NSW Business Chamber, said he suspected pricing was more an issue than the relationship with China.
"In a city with 1.4 million workers, finding 200 people at $495 a seat is not a challenge. The challenge probably is to spend $20,000 on a table, and I suspect your market there is very small."
Lynn Ralph, a Buddhist and founder of the consultancy firm Cameron Ralph, will hear the Dalai Lama speak.
"Business is all about people, and … valuing the individual. You can have a successful business and still treat people with enormous respect and understanding. Buddhist philosophy gives a framework of corporate responsibility that makes sense."