Dalai Lama tour repays faithful
by Mike Bruce, Herald-Sun, June 6, 2007
Perth, Australia -- BUDDHIST faithful would be repaid the $300,000 owed them by the Dalai Lama's Australian tour, its organiser has said.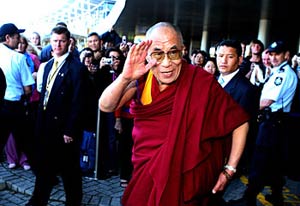 << Happy landing: The Dalai Lama greets followers on his arrival in Perth yesterday. Picture: Wayne Ludbey.
Australian tour director Dr Alan Molloy was confident the $300,000 in seed capital from "Buddhist organisations, sympathisers and people who are dearly beloved of the Dalai Lama" would eventually be honoured, despite revelations in yesterday's Herald Sun the tour was potentially headed for a $2 million loss.
Speaking at Perth airport after the arrival of the Dalai Lama yesterday, Dr Molloy was confident ticket sales would pick up now His Holiness was in Australia.
"The chances (of breaking even) are excellent, in fact I think they are 100 per cent," he said. "We fully intend to repay that money."
The shortfall comes after sluggish sales to seminars by the Dalai Lama, and the cancellation of two events in Geelong and Bendigo, after fears the tour was too much for the 71-year-old monk.
Dr Molloy said organisers would also seek public donations at events to help cover the shortfall.
"We'll also request donations . . . at events, and I think the events will be so successful people will open their hearts to us."
About 18,000 people are expected at each of the free events in Perth today, while Melbourne's paid event at the Rod Laver Arena has attracted just 4000, about half the configured capacity.
Dr Molloy estimated the free talk at Princes Park on Saturday could attract up to 30,000 people.
The Dalai Lama arrived in Perth for the first time in 15 years to more than 120 adoring fans.