Dalai Lama heads to Canberra
Tha Age, June 11, 2007
Canberra, Australia -- The Dalai Lama heads to Canberra on Tuesday, still none the wiser about whether his day will include a meeting with Prime Minister John Howard.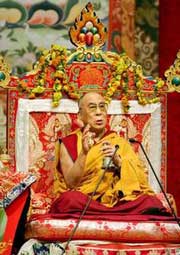 The exiled Tibetan spiritual leader, who is on an 11-day tour of Australia, has a scheduled meeting with Opposition Leader Kevin Rudd.
However, Mr Howard's office could still not confirm on Monday whether the prime minister was planning to meet Tenzin Gyato, the 14th Dalai Lama.
The Australian Tibet Council urged Mr Howard to make up his mind. Council chairman George Farley said it looked like Mr Howard was trying to avoid a meeting.
"We understand that the prime minister may have been delaying an announcement in order to reduce criticism from the Chinese government," he said.
"But with only a few days of the Dalai Lama's Australian tour remaining, it's beginning to look as if Mr Howard is actively avoiding a meeting."
There has been speculation that the prime minister has been coy about the matter in order to delay Chinese criticism over any meeting.
The 71-year-old Buddhist leader has admitted he understands why political leaders are reluctant to meet with him but that he is unconcerned by it.
"My main interest is meeting with the public because my main concern is promotion of human values and promotion of religious harmony," the Dalai Lama said.
China's new ambassador Zhang Junsai could not be contacted for comment but officials in Beijing have previously warned foreign leaders against meeting the revered religious figure.
Neither Mr Howard nor Mr Rudd were especially keen for a meeting when the Dalai Lama's visit was first announced, prompting widespread community criticism.
Mr Howard was the first to relent, saying he'd check his diary but since then the prime minister has refused to be pinned down on a final confirmation.
Mr Rudd, too, had a change of heart, agreeing to a meeting.
The government had labelled the Labor leader hypocritical for refusing to meet the popular leader after Mr Rudd criticised Mr Howard and Foreign Minister Alexander Downer for not meeting him during a visit to Australia five years ago.
In Canberra on Tuesday, the Dalai Lama will address a sold out lunch at the National Press Club before taking part in an interfaith discussion with other religious leaders.
More than 4,000 people will head to the Australian Institute of Sport (AIS) Arena to attend the religious symposium being organised by the Australian National University.
The Dalai Lama will be joined by Rabbi Jonathan Keren-Black, Bishop Christopher Prowse, and Islamic specialist Abdullah Saeed for a discussion on the role of religion in war and conflict.