Dalai Lama pays homage to "Crocodile Hunter's" zoo
AP, June 13, 2007
BEERWAH, Australia -- One of the world's most famous animal lovers visited the former stomping ground of another on Wednesday when the Dalai Lama toured the family zoo of late "Crocodile Hunter" Steve Irwin.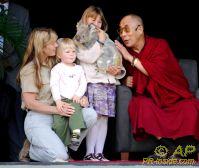 << Crikey: Buddhism comes to the animals - Dalai Lama visits Australian Croc Hunter's zoo. By DENNIS PASSA - Associated Press Writer
Delicately handling a Burmese python and gingerly petting a frisky koala, the spiritual head of the world's Buddhists visited Australia Zoo and spoke to a sold-out crowd at its open-air, arena-style Crocoseum.
The last time the place was this full was nearly nine months ago during a memorial service for Irwin, the late host of the TV wildlife show "Crocodile Hunter" who died last September when the barb from a stingray pierced his chest while he was diving on the Great Barrier Reef.
Dalai Lama thanked Irwin's family for their dedication to wildlife. At the same time, he used the occasion to criticize experimentation on animals and encouraged the 5,000-capacity crowd to become vegetarians.
"Hunting, beef, sheep farms, piggeries, millions, billions, die," said the Dalai Lama. "We can be so cruel to animals."
The hour-long tour of the zoo was a different experience for the Dalai Lama, whose 11-day tour has been politicized, as it often is when he is abroad, by lawmakers concerned about meeting the man China considers an exiled troublemaker.
After weeks of hedging, Prime Minister John Howard agreed to meet with the Dalai Lama on Friday. Howard is anxious not to offend the Chinese government too much because Australia's economy is closely tied to China's booming demand for natural resources and Australia's ability to supply them, but his government also staunchly defends Australia's democracy.
China, which rules Tibet with military force, has used diplomatic pressure to discourage governments from meeting with the Dalai Lama or otherwise showing him support. It immediately criticized Howard's decision to meet with the Tibetan.
On a sunny, but crisp winter morning, the Dalai Lama, with his long traditional red robe flapping in the wind, received a standing ovation as he came on stage at the Crocoseum. Some of the crowd waved Buddhist prayer flags that were purchased at concession stands that normally sell pellets to feed the kangaroos.
Seconds after the Dalai Lama began his speech, almost as if on cue, about a dozen Australian native birds, including black cockatoos and rainbow lorikeets, flew into the stadium.
"I think they were perhaps not ready to leave yet," the Dalai Lama said of the birds, to laughter from the audience.
But most of his off-the-cuff address Wednesday, officially to open "Kindness Week" to animals, was more serious as he criticized companies and organizations that "remain indifferent" to the rights of animals by experimenting on them.
He also spoke of the benefits of vegetarianism, and said he often used to buy animals to save them from slaughterhouses when he was a young man in Tibet.
The Dalai Lama's visit ended when American-born Terri Irwin, Steve's widow, and their children, Bindi and Bob, came on stage, with Bindi carrying a koala.
"He looks lazy, just like me," the Dalai Lama said before presenting the Irwin family with Buddhist scarves.