Young people 'turning to spirituality': Dalai Lama
By Alyssa Braithwaite, AAP, June 14, 2007
Sydney, Australia -- GROWING numbers of young people are turning to spirituality as they realise they cannot inject, drink or purchase peace of mind, the Dalai Lama says.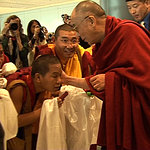 << The Dalai Lama arrives in Sydney
The exiled Tibetan spiritual leader was greeted by about 100 people when he arrived in Sydney today to begin the final leg of his 11-day tour of Australia.
He laughed and offered blessings as he moved past the crowd, which included more than a dozen Buddhist monks in traditional robes and also Tibetan children in traditional dress.
The Buddhist leader said later that his No.1 commitment in the country was the promotion of human values and religious harmony.
"I consider meeting with the public as something useful because my main interest and my first commitment is promotion of human values," he said.
"When I said human value, not necessarily religious faith but ... secular ethics such as warm-heartedness and sense of community."
He said that in this age of celebrity and consumerism, more and more young people were becoming interested in what he had to say, because his message about creating a happy life was universal.
"I have nothing special to say, and I'm not a singer, I'm not special," the Dalai Lama said.
"But everybody, whether they are wealthy or poor, everybody wants a happy life, everybody wants a successful life and that is much dependent on peace of mind."
The best way to achieve a happy life, he said, was by ensuring that your mind was calm, through spirituality.
"More stress, more anxiety, more fear is the largest obstacle to happy life," he said.
"A calm mind is very essential. A calm mind you cannot (get) through injection, through buying."
The 71-year-old holy man, who fled into exile when China seized control of Tibet in 1959, said his other commitment was to Tibetan issues.
The Dalai Lama will give a free public talk tomorrow at The Domain, in central Sydney, to be followed by a concert.