Buddha in suburbia
by Karen Pakula, Sydney Morning Herald, September 7, 2007
Karen Pakula finds the road to enlightenment leads to outer Wollongong
Wollongong, Australia -- The nun appears out of the shadows and stands beside an island of steaming bains-maries. It is time for the buffet dharma: "Go back as often as you wish but eat everything on your plate," she says, rather sternly.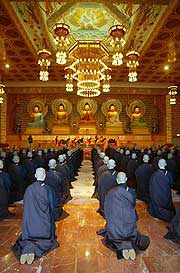 << Novice monks at the Nan Tien Temple in Berkeley.
Photo: David Tease
Tonight we are dining with Buddhists. This means we'll eat vegetables - steamed greens, spicy stir-fried cabbage, cheesy potato bake, corn cobettes, rice, tempeh and a tasty minced soy product with mushrooms - in silence.
Michael and I are the odd bods in this picture. The other 50 or so in the temple's dining hall are on a weekend meditation retreat, where they must still their monkey minds and think noble thoughts while dressed in grey robes. I'm not wearing even a hint of grey and am in agony with embarrassment. My husband, a man devoid of such feelings, is enjoying my suffering, judging by his insufferable grin, but the men and women in grey show compassion and keep their eyes on their chopsticks.
Who knew the Nan Tien Temple has a three-and-a-half-star hotel? "A Buddhist B&B? A B B&B?" was a friend's reaction to our plans to head to holy outer Wollongong. If only someone had warned us non-devotees would be conspicuous.
Our purpose was not a quickie spiritual conversion. A night of Buddhist hospitality certainly held the promise of rest, but Nan Tien - the biggest Buddhist temple in the Southern Hemisphere - also appealed to our tourist yearnings for exotic cultures, garden expeditions and construction marvels. (The complex of low-slung buildings and eight-storey pagoda is based on 1000-year-old Chinese architecture. It's not the sort of thing you see on any street corner.)
I found the Pilgrim Lodge on the temple's website. It looked comfortable and was open to everyone so I decided to go, just like that. Of course, I now know most guests stay overnight because they have enlisted in an organised program, not because it's convenient and cheap ($95 a night for two).
Still, no one else has an issue with our issue. In fact, at the time of our visit the temple was sending out a breathtaking welcome - "May Everything Go Perfectly for You" - writ large on a banner above the main shrine.
Our room is not perfect but it's very good. More minimalist than monastic, it has a double bed, soft blue drapes, smart modern cabinets, kettle and luxuries in the shape of a small television set, an electric blanket and a manicure kit (cotton buds and nail file). The bar fridge is empty but that's hardly surprising given alcohol and cooking in rooms are banned.
When we arrive the sky is blue and the air warm so we venture to the lotus pond, with its lily pads the size of banquet platters and, watching over them, a sentry of angry stone men in contorted poses (one is cleaning his ears). We find topiary, bamboo as thick as downpipes and, near the pagoda, a mass planting of more stone men, though these are short and adorable.
At the top of the grand staircase leading to the shrine, a large crowd, including our grey-swathed friends, has gathered to witness the drum and bell ceremony, a measured and solemn display of pacing, banging and meditation. It culminates with 108 belts of "Big Gong" by Reverend Miao You, who presides over the temple and, we will learn later, the buffet. The shrine's interior is dripping in Buddhist regalia: five monumental manifestations of the Enlightened One command centre stage, while 1000 tiny gold replicas in niches line the walls. Visitors stop at the doors to offload their shoes and quietly enter to pray.
We wander through the grounds and find the Great Hall of Compassion, a smaller but still vibrant-coloured place of worship, where I feel the urge to have a stab at the Prayer for Preventing and Putting an End to Calamities and Disasters but I suspect once will not be enough.
Peace descends when the gates close at 5pm and the daytrippers disappear. There's just birdsong, the peripheral drone of traffic on the F6 and our own stage whispers. Is this how it feels to be locked in the Botanical Gardens overnight?
Beyond the grounds' border of conifers and red bricks, we see green hills, the gloomy Illawarra escarpment and a Bunnings warehouse. There's no escaping the unromantic truth: we're not secluded on a mountain top in a far-flung misty kingdom; we are 15 minutes from the centre of Wollongong. But this works to our advantage after dinner, when we make a brief escape to the city for coffee and mud cake.
We return to the city for breakfast at a beach-side restaurant with pelican views, but this is another debacle as we wait an hour for our eggs. Lunch is far more successful, at the lovely tea-house with the lovely name (Dew Drop Inn) under the temple's stairs. We drink osmanthus tea and eat jade (yes, green) dumplings and steamed vegetables, a generous plate with a dollop of the textured soya protein a la dinner service.
Sundays are busy. After more than a decade, the temple is a destination for a vast multiracial community for baby blessings, weddings, cookery classes, memorial services; its pagoda has space for the ashes of 7300 souls. The temple is run by a Chinese sect called Fo Guang Shan, whose octogenarian leader, Hsing Yun, has only recently begun to slow down. Since the '60s he has opened 120 branches around the world, established a cable television station and daily newspaper and is, like the Dalai Lama, a jolly, well-loved leader.
In our room I uncover a library of Hsing's short tales, with winking titles such as Master Ikkyu Suns His Sutra, starring a naked holy man. They are charming and oblique, right up to the point the message jumps out and bops you on the nose. In one, a beautiful student who "trailed just a trace of the dust of the world behind her" declines to become a nun because she hasn't lived long enough to have worn a pair of nylon stockings, damn it. Cut to an unidentified airport in the United States where Hsing is exchanging charged glances with a customs agent who has happened upon a bundle of sheer pantyhose in a corner of the monk's luggage. "Don't you know monastics have the same feelings as mothers and fathers?" the story ends.
The credo, repeated on posters all over the temple, is tolerance. Disciples savour these pearls their own way. "Are you a nun?" I inquire of a bald woman in an open-collared sports shirt at reception. "No," she says, laughing shyly. "I hate people touching my hair, so I went to the barber and had it shaved off."
FAST FACTS
Getting there Nan Tien Temple is on Berkeley Road, Berkeley: eight kilometres south of Wollongong and about an hour's drive from Sydney. The temple is closed on Mondays.
Staying there Pilgrim Lodge has single suites for $85 a night, twin share (two singles or one double bed) for $95, triple share $130, four share, $160. Phone (02) 4272 0500 or see www.nantien.org.au