A lesson on living the good life
by Gabriella Coslovich, Sydney Morning Herald, September 15, 2007
For Tibetan Buddhism's foremost woman lama, living well requires patience, discipline and time to shop, writes Gabriella Coslovich.
Sydney, Australia -- AROUND seven on a chilly early spring Sunday evening, people trickle into the Sakya Buddhist centre in Sydney's west. They leave their shoes on wooden shelves at the side entrance of the double-storey, cream brick, suburban mansion.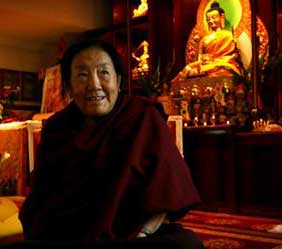 << Jetsun Kushola, 69, initially did not want to be a teacher, but she has become a role model for Western women interested in Buddhism.
Photo: Steven Siewert
The palm trees lining the driveway give the home an air of California dreaming. But apart from the rustling fronds, there is little to distinguish the centre as anything other than a large residential abode, the sort built and beloved by hard-working immigrants who were making it good in the '70s and '80s.
Inside, people in jeans and casuals, Caucasian for the most part, mill about, waiting for the evening's ritual to begin. Jack Heath, the centre's president, and a former speech writer for Paul Keating and Gareth Evans, wanders about in his suit and tie, greeting people. He has the air of a man deep in thought.
The centre's monks are a more jovial lot: the tall and chatty Tenzin Phil, who drives cabs three times a week and is jokingly called "Lurch" for his resemblance to the deep-voiced butler in the '60s sitcom The Addams Family; and Lama Ngawang, whose youthful grin belies his seniority in the Buddhist tradition, and who goes by the nickname Lama Larrikin because of his mischievous bent.
The centre's beige-tiled foyer is filling with people, from seniors to teens. Tonight is special. The centre is being visited by the Tibetan Buddhist tradition's foremost woman lama, the 69-year-old Jetsun Kushola. She has flown from her home in Vancouver, Canada, for an intensive teaching program taking in Sydney, Adelaide, Whyalla, Melbourne and the Blue Mountains over the next two months.
This evening she will conduct the Green Tara Empowerment, which, despite its name, has nothing to do with bolstering the egos of type-A personalities needing an incentive drive. The Green Tara is the deity associated with active compassion - her outstretched leg symbolises that she is ready jump into action. As the hour of eight approaches, the crowd ambles upstairs.
At last, a little stooped lady in traditional robes emerges from a side door. She takes her place on the throne in front of the vast shrine. The empowerment begins. There is much Tibetan chanting, the recitation of mantras in Sanskrit, the throwing of rice, the swinging of incense, the crashing of cymbals, the beating of drums, the ringing of bells, the giving of offerings. To an outsider, the rituals are esoteric, yet strangely evocative, affecting in an osmotic, visceral sense.
After about an hour, the empowerment is over. Jetsun Kushola stands up, says "that's all, finish, goodbye". She waves, smiles and disappears through a side door. Her husband, Luding Sey Kusho, pokes his face around the door and it lights up, as if in awe of the crowd his wife has attracted.
Jetsun Kushola has lived an extraordinary life. Born in Tibet in 1938, into the noble Sakya lineage, one of the four schools of Buddhism, she was destined to become a nun.
According to the traditions and expectations of her lineage, she began studying the Buddha's teachings at age six. At 10, she made her first retreat, meditating and reportedly reciting a million short mantras and 100,000 long mantras. During retreats, she would rise at 3am and finish her practice at 11pm. As a noble Sakya woman, Jetsun was accorded the same teachings as her brother, Sakya Trizin, who is now the throne holder of the lineage and lives in Dehradun, in northern India.
In 1959, Jetsun and her brother fled Tibet as the Chinese Communist regime encroached.
They escaped to India, where it became increasingly difficult for Jetsun to continue living as a nun. Her shaved head and robes attracted ire and ridicule. With the approval of the Dalai Lama and her brother, Jetsun gave back her robes and grew her hair. But she continued the inner life of a nun. She learnt English at a missionary school, where she met her future husband. Her aunt and other family members arranged a marriage between Luding Sey Kusho and Jetsun. Initially, Jetsun refused, but the couple eventually married in 1964.
They had five children - four sons and a daughter, who died in infancy. In 1971, they migrated to Canada. Only three of their sons went with them - the couple's four-year-old, Shabdrung Rinpoche, remained in India with his uncles, to become a monk.
In Canada, Jetsun had hoped to live a quiet life, continuing her Buddhist practice while working full-time as a weaver for fashion designer Zonda Nellis and part-time as a house cleaner.
She would rise at 4am, meditate until 7am, have breakfast, leave for work at 8am, return home at 5pm, tend to the family, and go to bed around 9pm or 10pm, or later if something on television caught her fancy.
It sounds like a gruelling routine, but Jetsun, in her calm way, says that it wasn't at all. "Tiring is only in your mind. If you are thinking tired, you (are) always tired, if you are not thinking about that, it's OK."
After leaving Tibet, Jetsun had no desire to teach, but fate would intervene. During teachings in New York, her brother Sakya Trizin was asked by women why there were not more female teachers in the Buddhist tradition. He said there were, and that an important one lived in Canada.
And so Sakya Trizin told his sister that she should resume teaching and become a role model for women in the West. She could not refuse.
"His Holiness [Sakya Trizin] is my root guru, so I can't say no," she says. "Otherwise, I really, truly in my way didn't want to teach. I wanted to be quiet."
Jetsun's English is stilted, making it difficult to conduct a deep philosophical discussion about Buddhism. Her answers, too, can be frustratingly simple, in a peculiarly Buddhist way. And yet, respect is owed to a woman who is one of the religion's most highly realised female teachers.
"It makes a huge difference to Buddhist women that there is a woman teacher of high standing who is universally acknowledged," says Tibetan historian Di Cousens.
"It shows that there is not a hard and fast gender boundary. There is no reason why women, given the opportunity, cannot become important teachers."
Cousens adds, however, that "Buddhism is widely seen as a very patriarchal religion for good reason.
"The teaching structure is 99.9 per cent male, so it has been a bit of a battle for women to have any position in the hierarchy," she says. "There has only been a handful of famous women teachers and there must be thousands of famous male teachers, and it's not because women lack capability or interest. It's because the resources have never been made available on any sort of parity for nunneries compared to monasteries, or for women in other walks of life."
But feminism and its concerns are not part of Tibetan cultural tradition and Jetsun hasn't much to say on the topic.
She admits she does not really understand the concept of feminism, and cannot say whether it is a good or bad thing. Buddhists believe in karma, she says, and one's karma will influence the course of one's life.
Asked about her childhood and whether she ever resented the onerous demands of her studies, the early rises and late finishes, Jestsun replies, "No, no, never think that."
"Generally, Tibetan children or people don't have that kind of mind. They're always thinking of the parents or the teacher, whatever they teach is the best thing for us."
She sees a lack of discipline in the children of Western families as a major problem. Parents, mothers especially, she says, need to be more mindful of raising well-behaved children, of leading them onto the right path, rather than spoiling them.
"You need a little bit of discipline … not forcing children, but letting them understand which way is suitable," she says.
Jetsun has experienced dramatic changes in her life, going from living with servants in a Tibetan palace to a humble existence as a mother and working woman in Canada, and from nun to married woman. What was it like giving up the monastic life to become a wife? "Oh, it's OK," she says, laughing.
"Not too surprising, not too interesting, nothing. Life is life, you know, that's all."
Although not a "love" marriage, the union between Jetsun and Sey Kusho has been a good and fruitful one. On this Jetsun is clear. Without her husband's support, she would have been unable to return to teaching. So what is the secret to a good marriage?
"I think nothing too special, actually. I think you need to be patient. Patience is very important in regular life or religious life," she says. "Western society is a little bit impatient. Also they want everything the way they want it, then people have difficult lives."
In Australia, those identifying themselves as Buddhist in the census more than doubled, rising from 200,000 to 420,000 in the years from 1996 to 2006. Buddhism is the most widely practised non-Christian religion in Australia. Jetsun believes Buddhism's popularity in the West is a sign that people are searching for truth, meaning and a means of quietening their busy minds.
Like her brother, Jetsun believes all world religions can help to achieve peace. But what about fundamentalist Islam and its links to terrorism?
Dialogue is important, Jetsun says, because anger and retaliation surely begets more anger and retaliation.
"One says something, another says something, then there is a fire burning and you throw in more wood and there's more burning," she says.
But extremists don't want to talk. "Yes, I understand," she says. "Then in Buddhism we pray for them to change their minds into good thoughts."
Among the followers of Buddhism are scientific minds, such as 32-year-old paediatrician Lucas Speed, who works at Campbelltown Hospital. Speed turned to Buddhism when he was searching for a way to cope with the suffering and death that he faced in the hospital. He did not want to become emotionally rigid.
"Without the Buddhist teachings I definitely would have dropped out," he says.
Speed attended teachings at Jetsun's dharma centre in Vancouver in 2000, and went on a pilgrimage with her to India in 2002. He vividly recalls one particular evening in India, when having dinner with Jetsun and her husband.
"Some monks recognised her, they were from her tradition, and they basically came up on all fours holding their scarves above their heads because of what she meant to them. And there we were at the table just talking like normal people, so that showed me how much she'd tried to meet us at our level," he says.
"It was the lack of politics and status and institutional egotism, which are the exact problems that I'm encountering with my profession (that I was attracted to). She's the antithesis of that, she's the down-to-earth, everyday householder with a family."
In the 12 days since arriving in Australia, Jetsun has had just two days off, and she wants to go to Leichhardt for a cappuccino and shopping, one of her favourite pastimes. As she leaves the centre, walking stick in hand, people stand and bow, forming a guard of honour.
She disappears around the corner, as one of her minders asks, "Would you like to come back here for dinner, or go out?"
"Go out," comes the forthright reply.