The felonious monk and his trail of lies
by Les Kennedy , Sydney Morning Herald, September 15, 2007
He's been hailed as a millionaire, doctor and ambassador's son who became a monk, but now he is accused of peddling drugs and public mischief. Les Kennedy reports.
Sydney, Australia -- To the monks of Sydney's Theravadan Laotian order at the Meditation Centre, Chinatown, he is known with respect as Ajahn Yanatharo - the term Ajahn meaning professor.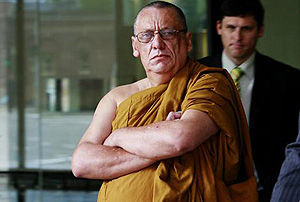 << On a wing and a prayer ... Jose Maria Sanz-Tonnelier, a self-proclaimed Buddhist monk, allegedly sold hydroponic cannabis from his Darlinghurst laundrette.
Photo: Lisa Wiltse
In Darlinghurst, the bespectacled 62-year-old, sandal-wearing and saffron-robed Buddhist is known to locals as the operator of the Darly Laundrette in Palmer Street.
In another life he is known to Kings Cross Drug Squad detectives as Argentinian-born Jose Maria Sanz-Tonnelier, an alleged cannabis dealer and grower who they arrested yesterday for the fifth time this year.
This time it was on the steps of the Downing Centre Local Court, as he left the complex having briefly appeared before the magistrate Margaret Quinn on 12 cannabis-related drug charges, including hydroponically cultivating the drug by "enhanced indoor means" at the laundrette which also served as his home.
The charges, which include possessing and supplying cannabis from the same premises, stemmed from police raids on the laundrette on February 11, February 15, April 13 and May 11 this year.
On May 20, 2002 he featured on ABC Radio National's Life Matters show hosted by Geraldine Doogue. The show was headlined, "Ajarn Jose - From Millionaire to Buddhist Monk".
The promo for the interview on the ABC website read: "Ajarn Jose was born in Argentina into a wealthy family that made its fortune in tobacco. He spent most of his life travelling and studying, he's got an undergraduate degree in science, he's an MD and he has a PhD from UCLA in the United States.
"Ajarn Jose eventually came to Australia to teach. He bought a million-dollar property in Mosman, and settled into the high life. But a couple of years ago, he abandoned his fortune, his Catholicism, and his family to become a Buddhist Monk.
"Ajarn Jose is now the Buddhist chaplain at Canberra University."
But according to a biography published on the meditation centre's website, under Ajahn Yanatharo: "Ajahn Jose (Dr Jose Sanz) was born in Argentina. His father was an Ambassador, so his primary education was in Russia and Denmark and his high school at Bern, Switzerland. He did his undergraduate degree at The University of San Francisco, and his Medical Degree at UCLA. He was married for 35 years and had six sons. After his wife died he became a Theravadan Monk at a Laotian Temple in Sydney.
"Since then he was the Buddhist Chaplain at The University of Canberra and now at St Vincent Hospital. He works as a Monk in the King Cross area with HIV/Aids and drug addicts."
A St Vincent's Hospital spokesman said yesterday he was not on its staff list under any of the stated names. Nor did any of the names "ring a bell" with those in charge of volunteer and part-time pastoral carers.
In his biography on the website, Sanz-Tonnelier lists his preferred names as "Ajahn Jose" and "Dr Jose Sanz". Yesterday, the court records and the magistrate referred to him as Sanz-Tonnelier. He appeared, dressed in his saffron robes, to have his bail-reporting conditions to Liverpool police varied from three days a week to two.
He was told his case was indictable and likely to go before the District Court.
But as he stepped from the court, Sanz-Tonnelier suddenly found himself arrested again - this time on a charge of public mischief. He looked stunned and angry when led to the Sydney Police Centre.
The charge alleged Sanz-Tonnelier falsely reported to Cabramatta Police on May 5, while on $50,000 bail, that both his US and Argentinian passports had been stolen while he was staying with other monks at a premises in Liverpool.
According to earlier court documents, both passports had been surrendered to the court when he was given bail so he could receive continuing treatment for cancer. He was detained in custody overnight after being charged and is expected to face Parramatta Local Court today.
According to court documents, Sanz-Tonnelier tried unsuccessfully last May to have his passports returned because he had "nil convictions", strong community ties and "needed to travel to Thailand to attend a United Nations Conference".
In an earlier appearance he indicated he would plead not guilty to all charges but has yet to reveal his defence to the drug charges. They have been relisted for hearing in the Downing Centre on September 25.