Incense, dance, Caddy for monk
by ANGUS HOHENBOKEN, The Mercury, October 17, 2007
Hobart, Tasmania (Australia) -- A revered 93-year-old Chinese buddhist monk was welcomed with a holy lion dance before stepping into a Cadillac limousine at Hobart Airport yesterday.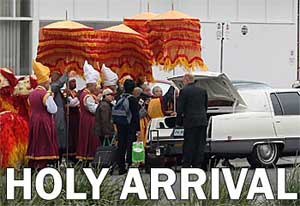 << SHOW OF RESPECT ... Tantrayana Master Bai Yun greets Gu Fan Mi followers at Hobart Airport yesterday before leaving in a limousine. Pictures: SAM ROSEWARNE
The smell of incense wafted through the Qantas terminal as Tantrayana Master Bai Yun arrived from Melbourne with an entourage of 130 disciples.
Tasmanian Chinese buddhist leader Master Wang Xin-De said Master Yun was the equivalent of the Tibetan Dalai Lama in Chinese buddhism.
"It's very rare to have a 93-year-old monk in the world that is still disseminating dharma (the teachings of Buddha)," Master Wang said through his interpreter Vajra Facheng.
"He is the second patriarch for the Gu Fan Mi, or Indian Tantrayana Buddhism."
After visiting Master Yun at his home in Taiwan last year Master Wang was recognised as the sect's third patriarch.
"In Tantrayana the teacher-student relationship is like a father-son relationship, so he has come to visit his sons," Master Wang said.
While the party waited for their baggage to be unloaded the gathering received the masters' blessings and Master Yun was honoured with a holy lion dance before rising to play a ceremonial drum.
Students of Master Wang filmed the monk's arrival and the quizzical expressions on onlookers' faces.
The two masters then left the airport in a white Cadillac limousine.
Master Wang said while Gu Fan Mi buddhism focused on the mind over material objects, the Cadillac had been hired as a show of respect to Master Yun.
Master Wang said there were about 100 Gu Fan Mi practitioners in Tasmania, which hosts the sect's international headquarters.
Master Yun will be honoured with a welcoming ceremony at the Gu Fan Mi Dharma world headquarters at 77 Collins St at 10am today.
He returns to Taiwan on Thursday.