Meditating on shifting sands
by Emily Dunn, The Courier-Mail, February 12, 2008
Brisbane, Australia -- AS far as sandcastles go it probably won't impress too many youngsters handy with a bucket and spade.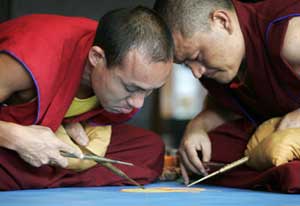 << GRAIN by grain ... Tibetan monks labour long over their Mandala sculpture. When finished, it will be only 1cm high. Picture: Liam Kidston
But the Mandala sculpture, slowly taking shape in Brisbane's Judith Wright Centre, will be much more impressive than it might look at first glance.
Four Tibetan monks are spending this week building the Mandala, the Buddhist version of a sandcastle, grain by grain.
Despite putting in hefty 10-hour days on the project it will still only reach a height of 1cm. And then, as soon as it is completed, they will destroy it beside the Brisbane River to symbolise the impermanent nature of the universe.
Tibetan musician Tenzin Choegyal, who organised the monks' Australian tour, said the ritual taught people of all ages "'non-attachment" to material things.
"When little kids see the Mandala the first thing they want to do is kick it," he said.
"Then they gasp when we destroy it."
The crushed marble Mandala, which depicts an intricate design of Buddha and a lotus, is being constructed as part of a week-long festival of concerts, meditations and workshops to celebrate the first week of the Tibetan New Year.
The Judith Wright Centre, in Fortitude Valley, is showcasing the festival, which runs until Saturday.
Highlights include free daily meditation workshops from 8am to 9am.
The ceremony to destroy the Mandala will begin in the foyer of the JWC on Saturday from 3.30pm.
While most festival activities are free, the monks request small donations to raise funds for their monastery and an orphanage in southern India.