Buddhism defying religion's slide in Wollongong
By ALEX ARNOLD, Illawara Mercury, February 23, 2008
Wollongong, Australia -- Wollongong people are becoming less religious, according to the 2006 Census, but Buddhism is defying the trend.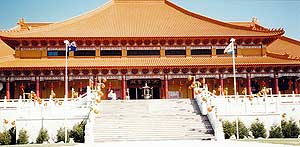 << Nan Tien temple at Berkeley
In 2006 more than 27,000 (14.9 per cent) Wollongong residents chose the "no religion" option, up almost 6000 from 2001.
Meantime, back in 1996 - one year after the Nan Tien temple at Berkeley opened its gates - just 716 people in the Wollongong Local Government Area identified themselves as Buddhists. By 2006 that number had jumped to 1958.
Buddhism's growth trend is not limited to Wollongong.
In 2006 there were 296 Buddhists in the Shellharbour LGA, 96 in Kiama and 558 in the Shoalhaven.
Late last year a small temple opened at Mollymook.
Nan Tien Temple spokeswoman Rachel Seath suggested the dramatic increase in the Illawarra was not necessarily because of the temple, although it may have played a role.
"From my personal opinion, and not that of the temple, many people I speak to have become disillusioned with religion for various reasons," she said.
"They see Buddhism as a way of life.
"It is a religion in a sense, but it is also about self development and wisdom. The temple doesn't try and convert people, that is not what Buddhism is about."
Another factor contributing to the rise is the Chinese-born population of Wollongong has tripled in 10 years to 1,540.
Ms Seath said many people of Chinese background were devotional Buddhists, people born into the religion and likely to call themselves Buddhist when asked, but not necessarily outward in expressing their beliefs.
While the Nan Tien Temple acts as a focal point for Buddhism in the area, Ms Seath said many practising Buddhists preferred to meet in groups within homes, visit other smaller temples in the region or travel to the Sunnataram Forest Monastery, at Bundanoon.
"But the temple is here for everybody," she said.
The Bundanoon monastery was established in 1990 and follows the Theravada Buddhist tradition, while the Nan Tien Temple promotes and teaches humanistic Buddhism, which follows the Mahayana tradition.
The Fo Guang Shan Buddhist order, based in Taiwan, oversees the temple.
The Shaolin order, which has plans for its second temple at Comberton Grange near Nowra, is based in China and teaches Chan Buddhism, which also belongs to the Mahayana school.
On the web:
http://www.nantien.org.au/htmls/about/about_ntt.htm