No jail for dope-dealing monk
By Amy Coopes, Herald Sun, June 26, 2008
Sydney, Australia -- AN Argentinian-born Buddhist monk who allegedly traded his tobacco fortune for a life of prayer, has been placed on a good behaviour bond for selling cannabis from his inner-Sydney laundrette.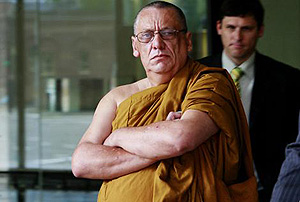 << Jose Maria Sanz-Tonnelier, a self-proclaimed Buddhist monk, allegedly sold hydroponic cannabis from his Darlinghurst laundrette.
Photo: Lisa Wiltse
Jose Maria Sanz-Tonnelier, 63, last week pleaded guilty to possessing and supplying cannabis, following police stings and raids on his business.
He was caught selling $10 worth of the drug to a young woman at his Darlinghurst laundromat in ay 2007.
A police search of the premises uncovered further stashes of 63.7g and 19.5g of cannabis, as well as "other paraphernalia such as plastic bags", Deputy Chief Magistrate Helen Syme said.
It was the second time police had found cannabis and other items indicating that "drug supply was something that was going on", Ms Syme told Sydney's Downing Centre Local Court.
The magistrate today placed Sanz-Tonnelier on an 18-month good behaviour bond for the possession and supply charges, excusing him from jail time in recognition of his age and ill health.
Sanz-Tonnelier's lawyer Shane McAnulty told the court his client was terminally ill and receiving treatment for a number of conditions, including cancer.
"He is self-medicating for the condition he has ... he is smoking (cannabis)," Mr McAnulty said.
Mr McAnulty acknowledged it was illegal to smoke the drug in NSW, even for medicinal purposes, but asked the court to accept Sanz-Tonnelier possessed the 90g for personal use.
Ms Syme agreed Sanz-Tonnelier, a Theravadan Laotian monk, suffered a "number of illnesses" and received various treatments over a "substantial period of time".
However, she did not accept that the cannabis was for such a use.
"Whilst I would like to accept that as the case, there's simply no evidence to support the submission," Ms Syme said.
She found Sanz-Tonnelier had no prospects of ceasing his drug use.
"But I trust that these charges themselves will have some impact in relation to your drug supply," Ms Syme said.
Dressed in flowing orange robes, Sanz-Tonnelier was unable to stand as he was sentenced, but said: "Yes ma'am, thank you", when asked whether he understood the proceedings.
The Argentinian-born Sanz-Tonnelier, reportedly once a millionaire and from a family of tobacco magnates, is currently residing at a Buddhist compound in Sydney's southwest.