Enlightening business
By EMMA O'NEILL, Northern Star, August 13, 2008
Kyogle, Australia -- You can still be a Buddhist and pay the bills.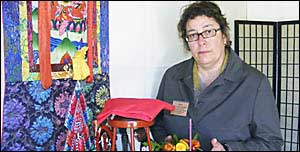 << NEW DIRECTION: Paula Raymond-Yacoub, administrative director of Kyogle's Vajradhara Gonpa Buddhist retreat.
This was the how Gesar Springs Community group representative Simon Thomas described the relationship between faith and business during a meeting at the Vajradhara Gonpa Buddhist Retreat Centre in Kyogle yesterday.
After 30 years as a Buddhist retreat run mainly by volunteers, stakeholders and community members met at the centre to discuss the economic viability of the 80-hectare property.
Mr Thomas said the centre, which ran the nation's first three-year Buddhist retreat, was built by the heart and not the wallet, however 'times had changed' and many of the volunteers were getting old.
Business consultant Samantha Muller said a five-year business plan would be developed for the site and would start once the next three-year Buddhist retreat finished in 2012.
Ms Muller said possible plans included opening part of the site for business conferences or functions that utilised the site's commercial kitchen.
"We want to make this quiet achiever into a regionally significant showcase," she said.
"However, we don't want to dilute the Buddhist values this place holds."
Administrative director of the three-year retreats at Vajradhara Gonpa, Paula Raymond-Yacoub, said the centre had come to a critical juncture and was keen to explore plans that would benefit the community and residents.
"Even those visitors who are not Buddhist know they have come to a special place," she said.
Administrator for the three-year retreats, Kate Miller, said the Kyogle community had benefited from the centre socially through a number of residents becoming counsellors, special carers, or within the Buddhist group, as well as economically.
The last three-year retreat injected $1.2 million into the region and Ms Miller confirmed most of the food bought for the 23 participants was purchased in Kyogle.
Ms Miller said a draft business plan should be complete by February 2009, when the community would be enlightened on the facilty's future.