The survivors of Qingzhou unearthed
by Louise Schwartzkoff, Sydney Morning Herald, August 28, 2008
Sydney, Australia -- At the Art Gallery of New South Wales a 150-kilogram sixth-century limestone Buddha dangles from a forklift, almost two metres above the ground. Its feet supported by five riggers, the statue descends slowly into a plinth.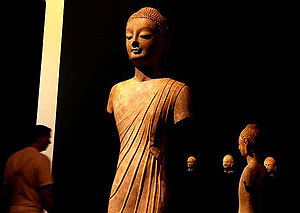 << Easy does it … setting up the Lost Buddhas exhibition at the Art Gallery of NSW. Photo: Ben Rushton
"This is the scary part," says Sean O'Connell, who is in charge of mounting the gallery's exhibition, The Lost Buddhas. "These things have got this huge cultural history to them, and each piece is worth several million dollars."
O'Connell has spent weeks installing 35 Buddhist figures from the Chinese town of Qingzhou. Discovered a decade ago by construction workers levelling a school sports field, the sculptures are one of the most significant archaeological finds of the 20th century.
On loan from Qingzhou Municipal Museum, several have never been seen outside China.
O'Connell oversaw their journey from Qingzhou to Sydney. "We brought them out on a plane in packing crates about two weeks before the Olympics and the customs officials in China wanted to open up all the boxes. It was a bit stressful," he says.
To display the figures, which range in weight from 50 kilograms to 1.5 tonnes, O'Connell spent weeks building carefully shaped wooden stands. "Originally they would have fitted into an architectural element in a temple," he says. "But after all those years underground, many of the feet have broken off, so we had to work out ways of holding them up. A lot of them are cracked through and you have to be really gentle."
Despite their long stint underground, the sculptures are the best preserved Buddhist figures of their era. "They have beautiful colour decorations on the surface, and if you look closely, you can see patterns in gold strips on various parts of their bodies," says Professor Helmut Brinker, of the University of Zurich.
Why the figures were buried remains a mystery, but Professor Brinker speculates they were destroyed by a fire in the Longxing (Dragon Rise) Temple, then given a ritual burial by passing monks. "It's a long-standing mystery," he says. "The only thing you can be sure of is that we've never seen anything like them before."
--------------
The Lost Buddhas: Chinese Buddhist Sculpture from Qingzhou is at the Art Gallery of NSW until November 23.