Buddhism central to Linda's daily life
by Julie McNamara, Geelong Advertiser, August 30, 2008
Geelong, Australia -- LINDA Diggins' Buddhist faith has a profound impact on her life.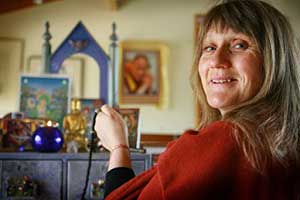 << DEVOTED: Buddhist Linda Diggins at her home in Barwon Heads yesterday. Photo: GLENN FERGUSON
The Barwon Heads mother of two first began studying the teachings of Buddhism, one of Australia's fastest growing religions, about 20 years ago and said she found an instant connection.
"The teachings were just so profound and so true and I could relate to what they were talking about," Mrs Diggins said.
Mrs Diggins became involved when she started meditation but it was a trip to a Buddhist centre in Melbourne with friends that spurred her faith.
Nowadays she spends an hour each morning meditating at an altar in her home but said her beliefs guided how she went about her daily life.
"What I found about Buddhism is it's really good advice," Mrs Diggins said, explaining it centred around things such as having a good heart and overcoming your negativity.
"I can see the value in it. If it didn't work I wouldn't pursue it," she said.
"There's always times in your life when things happen and it's not so stable and I think it (Buddhism) makes it easier to deal with anger and things like that."
She said one of the main reasons that she became a Buddhist was that she had so much respect for his holiness the Dalai Lama because he had so much integrity and she was able to put her complete trust and faith in to him.
Mrs Diggins is on the committee of the Drol Kar Buddhist Centre in Paraparap, which has more than 100 members, mostly from Torquay, Anglesea and Lorne.
The latest census figures show there are almost 1200 people in the City of Greater Geelong who describe their religious affiliation as Buddhist.
There are about 420,000 Buddhists in Australia which equates to 2.1 per cent of the population.