Honu seeks help to feed homeless
Byron News, March 19, 2009
Byron Bay, Australia -- HONU Dawson is a Buddhist nun, but admits she's not very good at sitting on a cushion and meditating.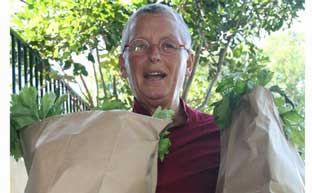 << PICTURED is Buddhist nun Honu Dawson, who is ready to launch a 'Liberation Larder' at Byron Bay to help people who may need a grocery top-up. She's hoping the local community will support the initiative by making regular grocery donations.
She sees herself more as an 'action Buddhist', which is why she is pounding the streets of Byron Bay seeking support for her project to help feed homeless people and families struggling to make ends meet.
Her aim is to set up a 'Liberation Larder', or food bank, to help those who may need a grocery top-up.
She said that according to Salvation Army figures, there were about 100 to 150 homeless people in our community and undoubtedly many more people were struggling.
"I'm more of an action Buddhist who feels it's time to end hunger in our own community," she said.
"If people are hungry, they can never reach their full potential and I just feel outraged that there are people struggling every day to feed themselves and their children."
Honu has spent time in the USA working with the Liberation Prisoner Project and at other overseas Buddhist centres.
She said urgings by the Dalai Lamai for Buddhists to become more involved in their local communities spurred her to start the project.
"It's now time for action," she said.
"I am hoping the community will get behind Liberation Larder and donate groceries."
Honu said she was seeking regular donations of groceries, particularly non-perishable goods.
She was also keen for anyone with a vegie garden to donate excess vegies or eggs to the larder.
Launch
Liberation Larder will be launched at the Byron Bay Community Centre on May 1 and will operate on Friday afternoons at the centre from 4pm to 6.30 pm.
If you can help, call Honu on 0418483777, or email honudawson@mac.com