Buddhism a spiritual awakening
Weekly Times Now, April 9, 2009
Bendigo, Australia -- ADRIAN Feldman was a successful Melbourne GP living with his girlfriend when he decided to become a celibate Tibetan Buddhist monk. That was back in the '70s.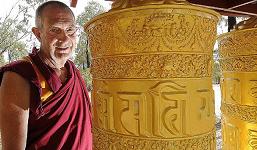 << Moment of reflection: Thubten Gyatso at Bendigo's Atisha Buddhist Centre
Today his name is Thubten Gyatso and he has just emerged from a three-year silent retreat on South Australia's Kangaroo Island and is heading home to Bendigo's Atisha Buddhist Centre, where he is one of three resident monks.
"My world view then and always has been scientific," says Gyatso, who was raised by a Jewish father and Christian mother.
"I had just finished working at Larundel psychiatric hospital and what impressed me from the beginning was Buddhism's approach to psychological problems, as I was not impressed with the Western way.
"By being attracted to Buddhism's approach to psychology it was just a continuation of my medical career."
Ironically, Bendigo GPs now refer patients to Gyatso, attracted by the same concept of mind control and focus on inner happiness.
"Patients are referred to me for cancer, anxiety or depression," he says. "I'd love to work in liaison with the medical world. I'd love to have a room - neutral, not Buddhist - where I can teach meditation."
Gyatso says that, with his scientific bent, he initially found it difficult to accept the concepts of karma and reincarnation.
However, after travelling and working around the world, including Afghanistan and Papua New Guinea, he committed to becoming ordained, living and studying for four years in Kathmandu before leaving in 1979.
He was among the first Western group of monks and nuns to be ordained in the Tibetan tradition.
"Of course I wouldn't have become a monk if I didn't believe in karma and reincarnation," says Gyatso, who has written an autobiography A Leaf in the Wind.
"I can't give you proof in science but given my experiences I believe them to be completely true."
Following this he helped establish monasteries in France, Mongolia and finally Bendigo.
At Atisha he is now helping the monastery's director, Ian Green, whose family originally donated the land, to build a stupa with a world-acclaimed jade Buddha.
He says Bendigo locals were at first suspicious of the monastery but they've now embraced it.
"I heard a radio interview the other day with Ian, and one of the locals called in. They didn't refer to it as the 'Buddhist stupa' but 'our stupa'. It's an indication that we're accepted."