Buddhist fest of enlightenment
by Koren Helbig, Albert & Logan News, May 1, 2009
Brisbane, Australia -- AN internationally renowned three-day festival with strong links to Logan begins at South Bank today.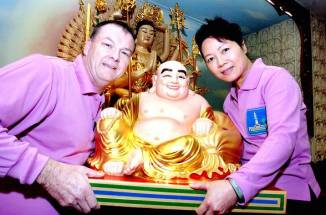 << Big celebrations ... Ralph Smith and Sophie Chen are looking forward to Buddha's birthday celebrations.
The annual Buddha Birth Day Festival is a colourful celebration of the birth and enlightenment of Lord Buddha, the founder of Buddhism, who lived in northern India from 563-483 BC.
While the free festival is now recognised as the world's largest Buddhist celebration, it began in a far more humble fashion within the walls of a small Priestdale temple.
Festival marketing director Ralph Smith said founders of the Chung Tian Temple, at 1034 Underwood Rd, created the event in 1992 but were shocked at its rapid growth.
They were forced to move the festival to Brisbane 13 years ago to accommodate the increasing numbers.
"We have about 700 volunteers preparing for the event, carting about two to three container loads of artifacts, relics and decorations to South Bank,'' Mr Smith said.
More than 200,000 visitors are expected to enjoy the multicultural performances, Buddhist talks, meditation and tai chi classes over the weekend.
There is also a children's amusement area, vegetarian food fair and two performance stages.
Other events on the bill include:
Today, May 1. Gates open noon-9pm.
Lion dance at 3.40pm, large-scale welcoming ceremony from 7-8pm.
Saturday, May 2. Gates open 9am to 9pm.
Buddha birthday offering and baby blessing for new mums from 11am-noon, multicultural performances from 2-3.30pm, and official festival ceremony from 7-8pm.
Sunday, May 3. Gates open 9am to 9pm.
Multi-faith prayer and light offering ceremony from 5.30-6.30pm, fireworks spectacular at 7.30pm.
The festival is at the Parklands, South Bank. Entry is free. Visit http://www.buddhabirthdayfestival.com.au for program details.