Tibetan Buddhist temple answers 5 million prayers
by Tiffany Fox, TheWest.com.au, 29th May 2009
Perth, Australia -- The golden statue gracing a new Tibetan Buddhist temple in the Swan Valley took Indian craftsmen more than four years to complete and its unveiling next week will mark the realisation of a 30-year dream.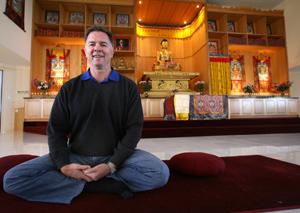 << The unveiling of the golden Buddha at the heart of the Tibetan Buddhist temple has been a 30-year dream for Les Sheehy. Picture: Sandra Jackson
For Tibetan Buddhist Society WA director Les Sheehy and his wife Margaret the temple's completion marks the formal coming of age of an organisation that started in 1978 as a series of weekly meditation classes and sessions in the front room of their Perth home.
The $3 million temple, paid for by donations and fees from meditation courses attended by more than 20,000 people over the past three decades, is the first of its kind in WA and only the second traditional Tibetan temple built in Australia.
Mr Sheehy was ordained as a Buddhist monk in 1977 but disrobed after meeting his wife, who was a Buddhist nun.
He said they believed the future of Buddhism in Western countries would depend on lay people, so they moved back to Perth and began holding classes on Buddhism in the front room.
Mr Sheehy said the temple formalised the presence of Tibetan Buddhism in WA and would provide a tranquil location for the society's regular meditation retreats.
"We have a vision that the temple will be generational and we have built it to have a minimum lifespan of 150 years," he said.
"One of the drivers for me has been knowing the incredible benefits meditation can have for the community at large, and we believe the temple is not just for Buddhists but for everyone."
Mr Sheehy said the 2.5m Buddha statue at the temple's heart was filled with sacred texts and five million mantras on paper scrolls that took Buddhist students more than four years to hand-roll.
The temple complex also contains a small shop, office and quarters for up to 16 people.
The group's spiritual leader Geshe Acharya Thubten Loden, one of the few remaining Buddhist monks trained in Tibet before the Chinese occupation, will officially open the temple at a public event on June 6.