Spirit of openness - tour Waitara's Buddhist headquarters
by TRACEY FINDLAY, Hornsby Advocate, Nov 4, 2009
Waitara, Australia -- MEMBERS of a Buddhist group are inviting the community to take a look at their newly-renovated premises.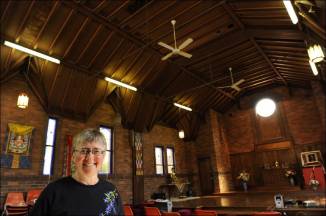 << Jane Crancher of the Amitabha Foundation headquarters at Waitara. Picture: PETER KELLY
The Amitabha Foundation, an international Tibetan Buddhist charity, opened its Australian headquarters in Waitara last year.
They have renovated the main building, formerly the Waitara Uniting Church, and a cottage on the site. Take a tour of the Buddhist premises, HERE
Foundation chairwoman Jane Crancher said the floor in the main building had been repaired and polished. Rat nests were removed and the ceiling fixed.
The cottage has been extensively renovated with a new floor, kitchen, bathroom, laundry and a general tidy up. It will be used for accommodation, office space and a library.
Ms Crancher said the group had received a positive reaction from the community since moving into the area.
"I think we have probably had about 100 people doing basic meditation classes," she said.
"We are trying to offer the place very much as a community resource."
The group offers Buddhist study and practice groups and supports charity work in Tibet and India.
Next month spiritual director, Choje Ayang Rinpoche - a senior Tibetan lama (teacher) - will be conducting a series of teachings.
"Whether or not you are interested in Buddhism come and see what we are doing," Ms Crancher said.
* The Amitabha Foundation will host an open day on Sunday, November 22 at 79 Edgeworth David Ave, Waitara, from 11.30am to 3pm. Details: 8250 5213.