Temple a super school 'detraction'
by Jewel Topsfield, The Age, August 30, 2010
Victoria, Australia -- A BUDDHIST temple next to Lakeside Secondary College in Reservoir detracted from the school's image, according to an Education Department report into the preferred location of the controversial school merger.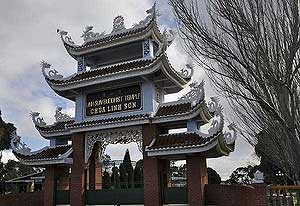 << Bad for a school's image? Picture: Michael Clayton-Jones
The government-funded report in May last year, seen by The Age, recommended the new ''super school'' - a merger between Lakeside, Merrilands College and Ruthven Primary School - be located at the alternative Merrilands College site.
In its site suitability analysis, independent firm Arup said the oval at Lakeside Secondary College abutted an ''unsightly industrial plastic plant on the eastern aspect and a Buddhist temple at its western aspect''.
Advertisement: Story continues below
''These uses are not complimentary [sic] to a learning environment and detract from the school's image,'' the report said.
A review into the merger process, commissioned by the Education Department after complaints from the Lakeside school council, found the site suitability analysis presented negative judgments without apparent explanation.
''It was pointed out, for example, that it is difficult to see how sharing a boundary with a Buddhist temple, detracts from a school's 'image' or is not 'complimetary' [sic] to a learning environment,'' said the review by Christine Kotur Consulting. ''Many schools share a neighbourhood with Christian churches, mosques or other similar institutions.''
The review, in November last year, said there were many comments about inaccurate factual detail in the suitability analysis and concerns about balance and lack of consultation.
''The review found that a number of concerns need to be addressed, both with the regeneration process and the site suitability analysis,'' the report said.
It said many of those interviewed, including the three school council presidents and the acting principals, identified no major concerns with the report and expressed satisfaction with its recommendation of the Merrilands College site.
Former Lakeside school councillor Hugh Kilpatrick said that, with hindsight, the reference to the Buddhist temple could be interpreted as ''clutching at straws'' to justify moving the new school prematurely to the Merrilands College site.