Monks share wisdom
By KELLY FITZGERALD, Orange Your Guide, 4 April 2005
Molong, Australia -- Seven monks performed in a Tibetan dance and chanting concert at Calare Public School on Saturday night. The monks are visiting Orange as part of their Sacred Footsteps tour, which takes them around Australia raising money to establish a hospital in India.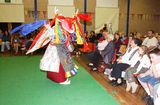 Leading them is Geshe Sonam Thargye who was born in east Tibet and is an associate of the Dalai Lama.
Geshe Sonam completed his training in 1995 and was invited to Australia for a holiday with his Australian sponsor. He liked it so much he stayed to teach, and later gained citizenship.
The six monks accompanying him were also from Tibet, and are now refugees who live in monasteries in southern India.
They are only in Australia for the six-month tour.
In addition to the concert, and guided mediation sessions held at the weekend, the monks are also creating a sand mandala at the Orange Regional Gallery.
In Tibetan Buddhism a mandala is an imagined palace that is a symbol of a perfect world and its energy, which represents an enlightened being's place of residence.
The monks are creating a mandala for the wisdom Buddha, the design of which comes from ancient texts.
To create the intricate sand artwork, the monks use copper funnels to pour sand onto a hard flat surface.
It will have taken them six days to finish, but this afternoon they will sweep it away in a dissolution ceremony which symbolises impermanence and teaches that all things undergo change.
The dissolution ceremony will be held at Orange Regional Gallery from 2.30pm.
Geshe Sonam Thargye led similar tours in 2002 and 2003 to raise money to establish a monastery, which is now complete.