Prayers for peace and strength
The Westender, Jan 14, 2010
Priestdale, Australia -- World Buddhist Leader donates $ 100,000 to Queensland Flood Appeal Venerable Master Hsing Yun, the founding Master of Fo Guang Shun, one of the largest Buddhist organisations in the world, shares a close empathy with the people of Queensland.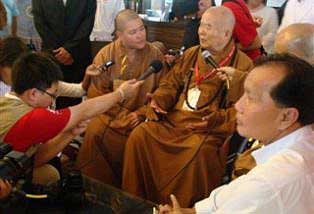 Often visiting the Chung Tian Temple in Priestdale, one of over 170 Fo Guang Shun Temples, the Venerable Master has shared with devotees at the Temple and many thousands of Queenslanders the messages of doing good deeds and providing compassion to those in need.
Aware of the great hardship and losses that many Queensland residents now face, Venerable Master Hsing Yun through the World Headquarters of the Buddha's Light International Association (BLIA) today made a donation of $100,000 to the Premiers Disaster Relief Appeal through the Buddha's Light International Association of Queensland (BLIAQ), the Queensland Chapter of the BLIA.
The Honourable Stephen Robertson MP, Minister for Natural Resources, Mines and Energy and Minister for Trade accepted the donation on behalf of Premier Anna Bligh from Master Chueh-Shan, Advisor to the
BLIAQ.
The Minister spoke of the BLIAQ's quick response in always providing great support to communities suffering from the results of devastating hardships. He expressed concern that although the floods appear to be ending there is now a long road ahead towards restoring life back to normal for those affected.
Master Shan informed the Minister that the BLIAQ was assembling it's members to assist with the cleanup and that other Chapters throughout the world are raising funds to provide a future donation towards the Relief Appeal.
Venerable Master Hsing Yun together with all worldwide members of the BLIA are praying for peace and strength to those that are facing this harrowing time.