Exhibition on monk?s works
By K.W. MAK, The Star, April 7, 2005
Kuala Lumpur, Malaysia -- The beauty of Chinese calligraphy lies not only in the strokes but in the meaning of the words, which one can see in venerable Buddhist monk Hsing Yun?s work from Saturday at the National Art Gallery.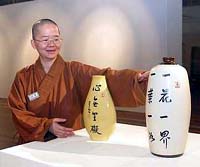 << Ru with some of the unique pottery with venerable monk Hsing Yun's calligraphy.
Organised by the Fo Guang Shan International Buddhist Order (FGS) and the National Art Gallery, the exhibition is an impressive collection of work done by the master since 1952.
Organiser Ru Chang, a disciple of the venerable monk, said the exhibition may be viewed for its beauty alone, but the appreciation is doubled for those who understand the meaning of the words.
?The collection on display shows the writings of the master?s development as a practising Buddhist, from his learning of Buddhist phrases to the implementation of the teachings in daily life,? said Ru.
Among the items on display are 146 pieces of calligraphy collected from all over the world, which took 12 months to gather because the venerable monk made it a habit of presenting his work to disciples from everywhere.
?Hsing Yun?s calligraphy is honest and sincere unlike traditional calligraphy work in which the artist practises the strokes again and again to perfect the piece. ?He is not a calligraphy master and spends 30 seconds to a minute to write each character.
?He is always mindful of the words he writes and does so with full concentration and sincerity,? said Ru.
The exhibition is divided into five sections ? the words he wrote annually to devotees and disciples; the four character blessings; the names of all 200 FGS monasteries worldwide; the handwritten scripts of his published works; and a replica of Hsing Yun?s meditation hall.
The venerable monk will give a free talk on Chinese Dharma on Tuesday at 8pm at MIECC, the MINES. The exhibition will be on daily until June 19 from 10am to 6pm. For more details, call FGS Malaysia at 03-7877 6533, 03-3191 1533, 03-7877 6512 or 03-7874 0341.