Gaining Enlightenment Through Technology
by LEE LAWRENCE, Wall Stree Journal, JUNE 2, 2011
Washington, USA -- By the time Katherine R. Tsiang visited the temple caves of Xiangtangshan in 1990, the sixth-century complex bore witness to both the Northern Qi's glorious sculpture and its irrevocable despoliation by looters and traders. Crude clay heads perched on finely carved seated Buddhas; haloes of floral reliefs encircled bare patches where faces had been chiseled off the cave wall.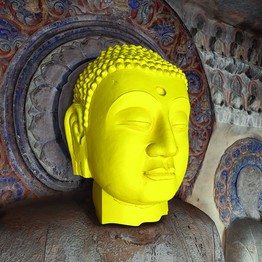 << A still from the Digital Cave, in which 3-D reconstructions of missing statue fragments are rendered in yellow.
Walking through "Echoes of the Past" at the Smithsonian's Arthur M. Sackler Gallery, it is easy to understand the looting. Were it not for size, weight and alarms, it would be tempting to steal any one of the show's 25 stone carvings. The Northern Qi (550-577) might have been China's shortest-lived dynasty, but it was also among its most creative. And thanks to the innovative work of Ms. Tsiang and her team at the University of Chicago's Center for the Art of East Asia, scholars not only know more about the role that Xiangtangshan played in artistic and theological shifts; they have also acquired valuable new research tools.
The most striking aspect of these works is their emotional resonance. The first Buddha we see cocks his head ever so slightly, as though puzzled by some aspect of the human condition—possibly the destructive folly of desires symbolized by pot-bellied monsters parading beneath him. In the next gallery, a larger-than-life Buddha head gazes down, eyes slightly crossed, modeling the "soft focus" advocated in texts on meditation, while in the last gallery a disciple stands, feet parallel, body held tight, eyebrows flexed in concentration. And little wonder: He holds a cylinder containing the Buddha's ashes.
[echoes] Jason Salavon/Travis Saul
These three figures were also part of the show when it first opened last fall at the Smart Museum of Art in Chicago, but here they are part of an exhibition almost double in size. Thanks to the addition of 12 sculptures - nine from the Sackler's nonlending sister institution, the Freer Gallery, and three from the University of Pennsylvania - we see not one, but three life-size standing bodhisattvas, getting a better feel for the Northern Qi's treatment of body and ornament. And when we encounter seven representations of a figure known as Pratyekabuddha, we realize something theological is afoot.
Many sixth-century Chinese Buddhists feared the Buddha's teachings were in decline. So they emphasized meditation, believing that rebirth into a paradise presided over by Amitabha Buddha was available to all, even those who did not follow Buddhist teachings. This comes across most vividly in a relief on a stele believed to have been carved at Xiangtangshan: Amitabha, flanked by monks and bodhisattvas, sits within the enclosure of two trees; outside the frame, two Pratyekabuddhas stand on lotus pedestals. Above them, tree branches bloom with reborn souls.
This bigger show also enabled Sackler curator and associate director J. Keith Wilson to build a chronological narrative—from the larger Northern group of caves (550-570) to smaller, southern ones (565 onward). Beautifully displayed against dark walls, the carvings shift in scale from monumental hand fragments to close-to-life-size heads, giving us a feel for the difference among the caves.
It is next to a small display representing the last Northern cave that we come across the Digital Cave, a three-screen projection that held pride of place at the Smart Museum. Chronologically, it makes sense, but this placement risks obscuring the fact that the video brings to life the scholarly project behind the show: Ms. Tsiang's virtual reconstruction of the cave temples. Scouring collections around the world, Ms. Tsiang traced some 100 pieces to Xiangtangshan, then tackled the question of where in the caves they belonged. With records being scarce to nonexistent, Ms. Tsiang and her team enlisted a technology that translates accurate measurements into three-dimensional imagery.
They had hoped to simply feed data into a computer and have it match heads to necks and hands to torsos based on the contours of breaks. But worshippers and dealers had smoothed out fracture lines. And there were no telltale signs relating freestanding statues to particular plinths. Still, imaging technology allowed the team to virtually place a fragment on a spot, rotate it as needed, and see if it fit.
In one of the Digital Cave sequences, artistic director Jason Salavon virtually reinstated the fragments. But rather than blending them in, he colored them bright yellow. The show uses the same color to differentiate facsimiles made with Selective Laser Sintering (SLS), a technology that translates 3-D computer images into three-dimensional objects. While the Sackler uses them as stand-ins for objects, the Smart showcased them as tools for art historians whose discipline has always depended on reproductions, from photographs to plaster casts.
"One of the great results of this project," the Sackler's Mr. Wilson says, "is a much clearer understanding of this site and its pivotal importance" in artistic and theological developments. The Sackler's installation stresses the lessons learned, while the Smart's highlighted the underlying detective work. If visitors take time with the monitor screens and the projection, they can come away with the best of both.
Echoes of the Past: The Buddhist Cave Temples of Xiangtangshan
Arthur M. Sackler Gallery
Through July 31
---------
Ms. Lawrence is a writer based in Brooklyn, N.Y.