Treasures of Esoteric Buddhism
The Yomiuri Shimbun, Jul 23, 2011
Tokyo, Japan -- Kukai (774-835) established the teachings of Shingon esoteric Buddhism in Japan in the early Heian period (794-1192). Often referred to by his posthumous name, Kobo Daishi, he is considered a giant of the esoteric Buddhist school who had a great impact on Buddhist art in Japan.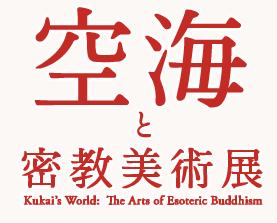 Kukai's World: The Arts of Esoteric Buddhism, which started Wednesday in Ueno, Tokyo, is exhibiting an unprecedented 99 pieces of art directly related to Kukai. With 98 of those works granted national treasure or important cultural property status, the exhibition, at Heiseikan, Tokyo National Museum, is expected to offer visitors the chance to learn about the essence of the Japanese monk.
Born in the area known today as Kagawa Prefecture, Kukai became a Japanese envoy to Tang Dynasty China in 804. During a two-year stay in there, he studied esoteric Buddhism; upon returning to Japan, he devoted himself to systemizing and spreading its teachings.
Kukai used Jingoji and Toji temples in Kyoto, as well as Kongobuji temple in Wakayama Prefecture, as bases for his Shingon teachings. The exhibition at the Tokyo National Museum was realized with the cooperation of these temples, and also Ninnaji and Daigoji temples in Kyoto, and Zentsuji temple in Kagawa Prefecture.
Shingon esoteric Buddhism places great importance on visual forms such as mandalas, paintings, sculptures and ritual articles. The statues from Kodo Hall at Toji temple are particularly well-known works. Eight statues from the hall, including two mystical myoo wisdom kings, a dignified Taishakuten and a fierce Jikokuten are on display at the exhibition.
A collection of historical paintings considered indispensable esoteric Buddhist artifacts can also be viewed at the exhibition. Ryokai (two worlds) Mandala, also known as Takao Mandala, for example, is the oldest existing work of its kind.
Visitors to the exhibition will of course have the opportunity to view works by Kukai himself, among them five autographed calligraphy pieces.
Other important pieces in the exhibition include plush monk headpieces known as Shakujoto, a highly elaborate niche adorned with various buddhist figures known as Shoson-Butsugan, and portable shrines adorned with Buddhist figures, all brought to Japan from China by Kukai.
Kukai greatly influenced his senior disciples, who went on to produce some powerful Buddhist art themselves. The Yakushi Triad from Daigoji temple and the Amida Nyorai with Attendants from Ninnaji temple, both dating back to the early Heian period, are examples that can be seen at the exhibition.
"Kukai's World: The Arts of Esoteric Buddhism," until Sept. 25, 9:30 a.m.-5 p.m. at Heiseikan, Tokyo National Museum in Ueno, Tokyo. Closed on Mondays except Aug. 15 and Sept. 19. Admission is 1,500 yen for adults, 1,200 yen for university students and 900 yen for high school students. For more information, visit the Web site at http://kukai2011.jp.