The Buddhist Shrine Room is returning to the Sackler for good
By Jacqueline Trescott, The Washington Post, Jul 19, 2011
Washington D.C. (USA) -- The spectacular Buddhist shrine room, a popular attraction at the Sackler Gallery last year, is returning. And this time for good and with the blessing of the Dalai Lama.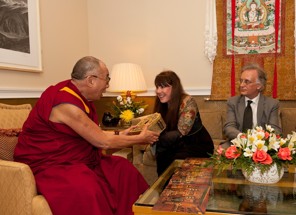 << Dalai Lama, Alice S. Kandell and Julian Raby discuss the transfer of the Tibetan Shrine to the Smithsonian (Courtesy of Sackler Gallery of Art)
The museum announced Tuesday that collector Alice S. Kandell is giving the gallery the Tibetan shrine room. The shrine has 220 objects collected by Kandell, a child psychologist and photographer, over the last four decades.
The gift immediately brings a prominent collection of Himalayan art into the gallery, which only had a modest amount of art from the region. The Sackler, along with the adjacent Freer Gallery of Art, is the permanent home for the country's official holdings of Asian Art. Both are part of the Smithsonian Institution.
The donation was solidified during the plans for the 2010 exhibition, which required moving the immense shrine from Kandell's home in New York to Washington.
Julian Raby, the Sackler and Freer director, described the power of seeing the shrine for the first time. "I walked into her apartment and it was mesmerizing," Raby said. "The exhibition allowed us to see whether creating objects in a setting when they are in dialogue with the visitors creates an experience."
The presentation worked, ending up as one of the four most popular shows at the Sackler in the last nine years, Raby said. "That puts it in very stellar company," he said.
As of now, the shrine probably won't be displayed until after 2012. "We need to build a room for it," Raby observed.
The shrine room contains 170 works of art, created between the 13th and 19th centuries. The art includes a Mongolian silver Buddha with seashell and coral decorations; scroll paintings on original silk brocade and a gilded bronze of the goddess Tara.
The acquisition will not only broaden the museum's examples of Himalayan art but provide new materials for scholars. "Around it we can build a strong program of Himalayan/Buddhist art. It turns out there has been very little research on private shrines. It can be more than a public draw and expand into a scholarly project."
The gift was confirmed in a meeting last weekend with the donor and the Dalai Lama. The Dalai Lama wrote the forward to a book about the shrine in 2009. Raby said he gave his approval to the donation.
"He feels anything that could encourage greater understanding of Buddhism is really worthwhile. And he felt it is highly symbolic that it will be on the National Mall," said Raby.