A Tibetan Study Reborn
By LEE LAWRENCE, Wall Street Journal, Jul 26, 2011
Newark, N.J. (USA) -- At first blush, the Newark Museum's galleries of Tibetan art look much as they always have: six interconnected spaces anchored by an altar set amid brightly painted columns and presided over by a 19th-century bronze Buddha. Behind him hangs a row of unfurled scroll paintings; before him, two tiers of silver vessels hold fake offerings of fruit, barley, rice and butter.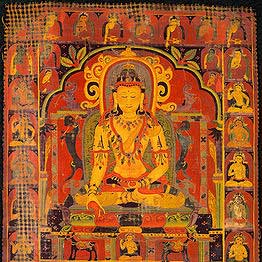 << The Newark Museum's Tibetan collection has been reinstalled to mark its 100th anniversary. Left, a 13th-century painting on blue plaid cloth.
On closer inspection, this altar turns out to be the only thing the curator of arts of Asia, Katherine Anne Paul, has not tweaked or rethought as she reinstalled the museum's Tibet collection on its centennial anniversary. Through a judicious use of artifacts and archival photographs, Ms. Paul successfully creates conversations among the objects and what she calls "layers of opportunities within the installation." The aim is to ensure that, whatever level of knowledge they bring to the show, visitors leave informed and enriched.
Tibetan Collection Centennial Exhibition
The first suite of galleries introduces Tibetan Buddhism, the driving force behind much of the art on display. It begins with a "Chapel of the Masters," which features 23 sculptures and paintings of seminal teachers, then moves to the altar, which the Dalai Lama consecrated in 1990 and revisited this May.
A third gallery illustrates some of the nitty-gritty of ritual and spiritual practice: implements such as a 15th-century chopper whose curved blade fits neatly into the oval cup made from a human skull; abstract mandalas symbolizing the cosmos; and creatures as fanged and fearsome as the Buddha on the altar next door is serene. These are protector deities, for whose favors humans beg. But if you face them after a long day when things haven't gone your way, you realize they are also those internal demons (ignorance, desire, willfulness—take your pick) that make the act of living a good life so damnably difficult.
Ms. Paul's "layers of opportunities" come through in the text and object groupings. One visitor might, for example, discover in the "Chapel of the Masters" that identifiable teachers established four main schools of Tibetan Buddhism and that you can tell them apart by the shape of their hats. Another might see in this display a chance to study portraiture styles, given that these sculptures and paintings range in date from the 12th to the 19th century.
Then there are visual juxtapositions. One of the first things we see walking into the "Chapel of Fierce Protectors" is an apron with a diadem and bandolier made of small bone carvings. Worn by priests for particular rituals, they are strikingly similar to the ornaments that a 15th-century sculptor cast in silver on the 12-inch-tall dancing goddess displayed nearby. Across the room, some of the tiny animals and riders carved into 19th-century wood dough molds display the same jaunty silhouettes as those featured in a painting on black satin from the 18th or 19th century hanging next to it.
In the gallery devoted to the Buddhist concept of "paradise and pure lands," the juxtapositions focus more on art-historical parallels and differences. The works here include paintings and statuary from Mongolia, Nepal and border areas of India and China. It's impossible not to marvel at the splendid yellows and reds of a self-assured Buddha painted in the 13th century on a blue plaid cloth that still puzzles scholars. Or at the superbly cast 11th-century brass statue of Kalachakra, whose 12 arms split at the wrist to provide this 8½-inch-tall deity with its 24 prescribed hands, each clutching a hallmark implement. It was made either in Kashmir or Tibet, while a splendid Buddha in lightweight silver repoussé hails from Inner Mongolia.
These parallels and contrasts delight Ms. Paul, who first began studying the Newark Museum collection 20 years ago as a doctoral student. The collection, which today boasts more than 5,500 pieces, began with a mix of vessels and guns, paintings and costumes, jewelry and ritual objects collected with ethnographic zeal by a missionary-doctor who moved to eastern Tibet in 1908. His name was Albert Shelton. He wore a Stetson hat and rode a mule called Abe. When some of Shelton's "curios" went on view between February and June 1911, more than 17,700 people flocked to the Newark Museum.
In all, the museum received 750 objects that Shelton collected between 1908 and his death at the hands of bandits in western China in 1922. Today, Ms. Paul uses many of these "curios" to provide valuable context to paintings and sculptures that Western scholars have since plucked from the ethnographic bin and reclassified as "art." And since Shelton's collection, along with that of three later missionaries, came to the U.S. before the 1949 Chinese occupation and the violence of the Cultural Revolution, more is known about their provenance than is often the case with Tibetan works.
This may come in handy in future scholarship, since much is still unknown. Why, for instance, does a 17th- to 18th-century bronze of Atisha, founder of the Kadam Order of Tibetan Buddhism, show him tilting his head to his right? "Here," Ms. Paul speculates, "I would imagine the tilt really is about him teaching," a master engaging his student, just as Ms. Paul, through this reinstallation, engages with us.
Newark Museum
Through Dec. 31
Newark Museum/Purchase 1993
-------------
Ms. Lawrence is a writer based in Brooklyn, N.Y.