Buddhist sculpture in Tokyo museum believed to be one that
Mainichi Shimbun, September 22, 2011
Tokyo, Japan -- A wooden Buddhist sculpture at a Tokyo museum is very likely the same one that famous novelist Naoya Shiga held in his Nara home, a professor announced on Sept. 20.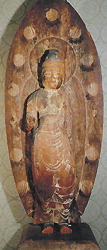 << The Buddhist sculpture held by Waseda University's Aizu Museum in Shinjuku Ward, Tokyo, is seen in this photo.
The professor, Mitsutoshi Kuretani of Soai University, is researching Shiga's activities in Nara. After finding information on a blog that the sculpture was in Waseda University's Aizu Museum in Tokyo, he had the museum send him photos of the sculpture. After comparing them against photos of the sculpture held by Shiga, Kuretani judged that Aizu Museum's sculpture and the sculpture Shiga owned are the same.
Kuretani plans to visit the museum in early October to examine the sculpture and make a final judgment.
The sculpture held at the museum depicts a bodhisattva, a person who trains to reach enlightenment and save others. Made out of a single tree and standing 95.3 centimeters tall, the sculpture is thought to have been made around the beginning of the 11th century.
In his essay book "Soshun no Tabi" (journey of early spring), Shiga mentions a bodhisattva sculpture that "was in Tanizaki's home, and now is in my home ..." It is thought that novelist Junichiro Tanizaki gave Shiga the sculpture.
It is known from photographs that Shiga kept the sculpture in a room on the second floor of a house in Nara. Shiga lived in that house from 1929 to 1938. The whereabouts of Shiga's sculpture since around the end of World War II had been unknown.