Grotto artistry
by Zhang Kun, China Daily, Oct 23, 2011
Shanghai, China -- Three replicas of the restored Mogao Grottoes fresco paintings is to be built and exhibited along with ancient Buddhist sutras, replica of colorful sculptures and other relics of Dunhuang culture, which dates back to the 4th to 14th century in northwestern China's Gansu province.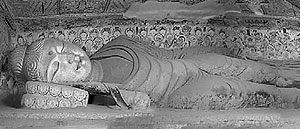 << The highlight is a huge statue of Buddha lying peacefully in repose.
This is one of the major attractions for this year's China Shanghai International Arts Festival, courtesy of Gansu, the guest province. The show will be at a special site at the Expo Memorial Exhibition Hall from Oct 25 to Nov 18.
Among the exhibits will be Grotto 159, which features a huge statue of Buddha lying peacefully in nirvana pose.
The replica is made four-fifths of the original size, allowing audiences to observe from a closer distance.
The fresco from Grotto 29, replicated for the first time and with mineral pigments, will show off the magnificence of the original art presenting as much as possible, according to Zhang Zhengfeng, the representative of the Gansu province at the festival.
He was introducing a series of cultural events from Gansu during the festival.
On Oct 25, a performance of Dunhuang Rhyme will be at the Shanghai Grand Theater, when music and dance portrayed on the frescoes will come alive on stage.
The Expo Memorial Exhibition opened at the former Puxi area of the Expo Park on Sept 25, showcasing highlights of last year's World Expo.
The exhibition is a preview for the World Expo Museum, the only official museum for the Bureau International des Expositions based in Paris scheduled for completion in two years.
More than 14,000 items have been collected for the museum, among which 2,000 will be on show at the preview memorial show, at the former Pavilion of Footprint, on the western bank of Huangpu River.
A digital animation project presents a panoramic view of the Expo Park on screen of 90 meters long and 4.5 meters wide, featuring ingenious pavilion architectures, and a record of some of the most exciting events.
"The project was made by the team that created the most popular digital scroll of Along the River During Qingming Festival," says Yu Li, deputy curator of the World Expo Museum.