A glimpse of Buddhist performing arts
Hindustan Times, November 29, 2011
New Delhi, India -- The first-ever Buddhist Art Festival was inaugurated in New Delhi on Monday. The three-day-long fest, organised by the Indian Council for Cultural Relations (ICCR), will acquaint residents with the lesser known Buddhist culture and performing arts of six nations. The event coincides with the Global Buddhist Congregation 2011, which celebrates the completion of 2,600 years of the enlightenment of the Buddha.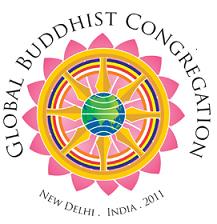 The festival focuses on the influence of Buddhism in performing arts and traditions and the impact it has left across the globe, especially in countries where a majority of the followers are Buddhists.
Foreign groups from Nepal, Sri lanka, Cambodia, the Republic of Korea and Bhutan are participating in the event.
"It is the first attempt by a cultural body like the Indian Council for Cultural Relations to reinforce Buddhist traditions through the performing arts. Buddhism originated in India and travelled throughout the world. The impact of the tenets of Buddhism has been such that in many countries it is a prominent religion," said Suresh K Goel, director general, ICCR.
The festival brings to Delhi a glimpse of life embodied by Buddhism and the various dance forms. "It is the first time that a festival like this will bring together Buddhist artists from more than five countries on one platform," he Goel.
Besides, the event has a lot to offer to dance lovers. It will introduce them to forms like dragon dance and mask dance.
Spread across several venues in the Capital like Azad Bhawan, Kamani theatre, Dilli Haat at INA and Pitampura, the festival will host performance troupes and screen Buddhist films from Sri Lanka, Cambodia, Nepal, Japan, Bhutan and Korea. Films from Ladakh, Shillong, Assam and Arunachal Pradesh will also be screened.