Emory's Carlos Museum finds its center with 'Mandala: Sacred Circle in Tibetan Buddhism'
by Jon Ciliberto, clatl.com, Mar 14, 2012
Atlanta, GA (USA) -- Emory University's Michael C. Carlos Museum, an often-overlooked gem for local art and culture, is exhibiting Mandala: Sacred Circle in Tibetan Buddhism through April 15. Mandala brings to Atlanta many rare and beautiful Buddhist thangkas, or paintings, along with other objects intended for initiation and meditation.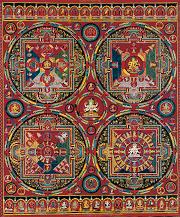 << Kimbell Art Museum
Four Mandalas of the Vajravali Series, c. 1429—56, Central Tibet, Tsang (Ngor Monastery), Sakya order, Thangka, gouache on cotton, KKimbell Art Museumimbell Art Museum
Mandalas are a kind of technology for meditation, meant to work with personal practice to achieve spiritual insight and liberation. The most common mandalas in Tibetan Buddhist art place a deity at the center of a palace filled with other deities and iconography. This palace is an individual and a cosmological map that lines up with a highly proscribed set of meditational practices so that an individual may see him or herself as the central deity. In fact, Buddhist philosophy describes individual and deity as one and the same.
Mandalas act as visual tools for meditators. The basics of mandala practice are fairly easy to imagine - think about a golfer on the green visualizing Arnold Palmer putting in order to perfect his own stroke.
Although intended for monks, religious art in Tibet touched nearly every aspect of society. For many centuries, Tibet was at the center of a vast Empire, trading with Nepal, India, Persia, China, and Central Asia. In addition to bringing technology and high-level artisans, this trade delivered to Tibet a fantastic range of artistic styles. The painted mandalas on display at the Carlos Museum are fantastically detailed, including myriad deities, monks, and symbols. Their arrangement in circular forms adheres to iconographic conventions, from the colors used to the placement of elements.
A mandala from Dallas' Kimbell Museum is so meticulously painted that even on closest inspection it's difficult to discern irregularities; It looks as thought it was printed using modern technology, rather than being created by hand 600 years ago.
The exhibit features rare forms of the mandala: The 18th-century Mahakala (Tibet's protector diety) is unusual for its large central triangle and absence of central deity. Instead, objects symbolic of deities and practice are present, placed with unusual, lotus-shaped palaces. The mandala's minimalistic design includes some gruesome imagery: flayed human skin, skulls, and intestines, all designed to remind the viewer how transient and unsustainable human life is.
A mandala beautifully decorated with flowers also elides deities, showing instead empty thrones to connote the "thus gone" aspect of the historical Buddha Shakyamuni and his 16 Arhats (acolytes). Tucked away amid the blossoms are wish-fulfilling jewels and ducks in ponds, while deer, traditional symbols for Shakyamuni adorn the four gates.
In addition to painted mandalas, the exhibition includes cosmological paintings, sculptures, and a fantastic, one-of-a-kind three-dimensional wooden carved model of the Guhyasamaja Mandala.
In association with this exhibition, Oglethorpe's Museum of Art has another kind of mandala on display: images created by patients of the psychoanalyst C.G. Jung. Jung used art as therapy, instructing his patients to create images as a means of expressing the conscious and unconscious, and clarifying mental obstacles.
----------
Mandala: Sacred Circle in Tibetan Buddhism runs through April 15 at Emory's the Carlos Museum. The Sacred Round: Mandalas by the Patients of C.G. Jung runs through May 6 at Oglethorpe.