Buddhism meets mythology
The Bangkok Post, March 20, 2012
Bangkok, Thailand -- Another exhibition of Buddhist art currently showing is "Mara", a series of spiritual paintings by Thanapon Junkasain. Located in the lobby of the Banyan Tree Bangkok, "Mara" is being staged by the non-profit arts organisation Wai Art. The contemporary Buddhist acrylics in Thanapon's first exhibition, "explore the concepts of right and wrong", according to the promotional material, by drawing on traditional mythology.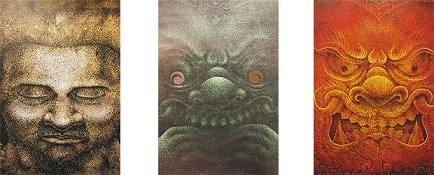 The paintings show texture, depth and rich colours despite the subdued palette. Fine, intricate dabs of pointillist colour rather than broad swirling strokes combined with strong gestures or expressions in the focal characters - which are drawn from popular Asian mythology - to create a serene visual intensity.
Through exhibitions such as this, Wai Art hopes to build a creative support system for artists so they don't have to teach or take other jobs but instead can focus on developing their skills. For new artists such as Thanapon, said Wai Art curator Thanom Chapakdee, there are few opportunities to exhibit; galleries are less eager to take on unproven artists and it takes time to build contacts and channels for possible sales.
"Thai artists are hugely undervalued," he said. "This is not because of a lack of talent but because they lack opportunitities. There is a disconnect here and one that is not only stifling innate creativity in Thailand but obstructing an appreciation of art and its role in society in a wider sense."
Sriram Kailasam, general manager of the Banyan Tree, added, "Creativity is such a unique treasure that we are pleased to play a role, however small, in fostering its development."
By providing opportunities and ensuring that profits are given to the artists rather than the galleries,the initiative is a boon for new artists and the public.
'Mara' by Thanapon Junkasain runs until March 31 at the Banyan Tree, Sathon Tai Road, Bangkok. For more information about Wai Art exhibitions, visit www.facebook.com/WaiArtProject.