Everett resident Lily Chang grew up in a remote village in Taiwan where attending school was a privilege. Even after moving to the bustling city of Taipei, she focused on work to help support herself and her family.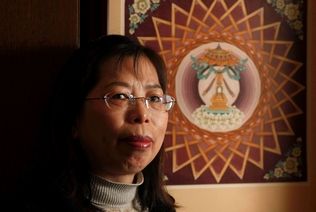 << Sarah Weiser/The Herald
Artist Lily Chang is shown here with one of her pieces, "The Buddha Stupa Mandala," which was displayed at the Everett Public Library.
"I never thought seriously about art until I was 45 years old," Chang said.
After visiting a small Buddhist temple, she was captivated by traditional images and artistry.
"I never saw anything like it before, and it surprised me," she said. "It was so different and interesting, and I started researching how to paint."
She persevered to find a class and studied for four years in Taipei.
"I just fell in love with it," she said.
Chang moved to Everett in 2008 with her husband and earned a fine arts degree from Everett Community College in 2011. Now 53, she recently transitioned to being a full-time artist. Her first exhibit, "The Beauty of Eastern Buddhist Art," was held in the spring at Bookend Coffee Company inside Everett's Public Library.
"As soon as I saw her work, I knew we had to show it," said Keith Pace, volunteer curator of Bookend's rotating art exhibits and full-time curator of Everett's 3231 Creatives gallery. "It's fairly unique. There aren't a lot of people doing Buddhist imagery, and it's visually very interesting," he said.
Chang works in various mediums such as acrylic painting, charcoal and calligraphy. Her signature style, however, is glue tempera on silk: Glue is infused with color pigment and applied to stretched silk.
"It's a very traditional, special skill and very, very old," Chang said. "There are Buddha paintings found in mountain caves that are over 1,000 years old."
When Chang began painting, she focused on simple portraits of the Buddha, but has since expanded to include Chinese figure drawings and classical mandala painting, a sacred art in the Buddhist and Hindu traditions.
"It's the first time I've seen it locally," Pace said. "You can see it if you go to the Seattle Asian Art Museum, but you won't see it out and about in the community."
Chang is thrilled by the opportunity to preserve her native homeland's ancient artistic traditions while sharing them with her new hometown.
"I want to introduce more people to eastern Buddha art. I hope that my exhibitions can show more about this different culture. That is one of my goals," she said.
On a more personal level, Chang's artistic journey inspires those around her. "She's new to the area and to showing her work and all of that is very exciting. Everett needs people who are involved and enthusiastic so that we can build our reputation as an arts community," said Pace, who is a collage artist.
Pace also is overseeing Chang's exhibit at 3231 Creatives Broadway gallery, which continues through Aug. 25.
Chang is looking forward to continuing to follow her inspiration wherever it takes her.
"I want to encourage people from my story. I didn't even find my passion until I was 45 years old. I'm happy that I found I have this talent because I feel so fulfilled," she said.