The Art of Seeing
by Himanshu Bhatt, The New Straits Times, May 1, 2005
His pictures have long been credited as some of the most stirring in the region. HIMANSHU BHATT gets the picture as veteran photographer Eric Peris shares his thoughts on capturing nature.
Kuala Lumpur, Malaysia -- ERIC Peris was once walking on a beach in Terengganu years ago when he noticed waves breaking on the shore, causing the surface of the sands to change.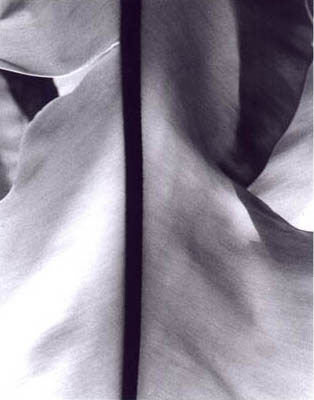 << Leaf Abstract by Eric Peris
Very carefully, he snapped a photograph of the occurrence in close-up.
The print in black-and- white showed luscious sand-etched patterns spread amid the moving waters and grains. Peris has since proudly preserved the picture.
"Isn't it interesting?" he now remarks. "This is nature ? it keeps changing. It has no permanence."
With a single click, Peris had not only revealed a slice of nature with all its visual loveliness; he had niftily captured ? through a spontaneous metaphor ? a deeply philosophical outlook of the physical universe.
"It is about the art of seeing," explains the 65-year-old photographer.
"I am not the creator of the image ? it has always been there. It is just that over the years I have trained my eye to see it.
"And as you see it, it has to interact with you. And when the interaction does take place, you record the image in that very moment."
This exceptional ability to see and interact has for the last 30 years allowed Peris to move common folk and art connoisseurs alike with quality photographic finishing as striking in appearance as it is evocative in meaning.
Peris is today one of the region?s most respected photographers, and a subject of numerous international exhibitions since 1980.
He has published three photography books while serving as photographic consultant and co-ordinator for government agencies as well as NGOs and private concerns.
With such degree of insight and experience, this native son of Johor has distinguished himself by helping to elevate photography to a higher level of artistic appreciation.
And he readily admits that the task can be very daunting, not just on the intellect, but also the instinct.
It is not just about interpreting nature anew, but veritably opening it up to reveal its very spiritual essence.
"There are many things around you that you don?t see."
In a very unique gesture, Peris publicly shared his thoughts on nature photography during a recent lecture put together by Bellevue Hotel on scenic Penang Hill.
The lush, cool setting may have stirred him. For as he spoke of his passion for the environment, he also imparted to the small gathering that had specially made its way up the hill, his sentiment for his personal past.
Peris? keenness for imagery was sparked in his childhood through ? interestingly enough ? exposure to painting.
His father, O. Don. Peris, was a well-known painter who once served as royal artist in Johor during the 1920s.
"From my father I learnt colour, perspective, composition," says Peris.
Raised in pious Ceylonese Buddhist upbringing, Peris is endowed with his father?s principles, and a devotion to uphold honest Asian values.
"Art must be positive. It must raise people," he expresses fervently.
"Whatever you do should not go against the social, cultural, traditional norms of society. It must give new insight. There must be some kind of hope."
This expression of hope may be felt in his earliest work on nature ? a photographic depiction of Gitanjali, the epic Bengali poem of Nobel laureate Rabindranath Tagore.
Peris picked up the 104-verse poem in the early 60s, when he spotted the text at a second-hand bookshop along Bras Bash Road in Singapore.
"I bought it for two dollars. I wanted to know what it was Tagore saw that made him put in poetry."
It took Peris five years. Patiently, unhurriedly, he waited for moments when he sensed he could record what Tagore himself might have felt or seen while penning a certain verse.
The collection, comprising 30 photos, was called Images of Gitanjali and was published during Peris? tenure as photojournalist with the New Straits Times.
It was in fact at the Straits Times in Singapore, where Peris began as journalist in 1969, that his photography career began by chance.
His editor, Sabarathnam, one day asked if he could take photographs for an assignment.
"On seeing the results, I was from then on a photojournalist. My editor pushed me. He believed in developing individuals."
It was this sort of adventure that stirred Peris to take the extra step to delve and explore.
A lotus bud on a stalk, for example, was not sufficient for him as just an organic vision; it became, with its minute geometry and lines, the symbol of a beginning.
"No one knows the future of the bud. It has its value at the moment."
Morning dew on a flower could not just be plain scenic beauty. It had to be portrayed as infantile purity that becomes besmirched as day passes on.
He spent years studying the decay of plants ? "they give out such beautiful colours" ? and did a whole series of images on this subject.
He recently photographed patterns on the ground made naturally by fallen twigs and pine needles, to then apply colours on the images, like the inspired Buddhist mandala.
"To me it is nature?s sketch. It is almost as if somebody drew these on paper."
People may agree or disagree with my colour scheme, but that?s how I interpreted the image."
Peris, who retired as photo editor of the NST in 1994, is now working on depicting all 104 verses of the Gitanjali; he has about 50 yet to complete.
He plans to hold an exhibition in August of his Japanese wood block printing, involving a very Malaysian concept in photography and hand colouring ("I will colour it the way I feel.").
Meanwhile he continues to hold classes for new generations of photography aspirants ? and he insists that the last thing his students do is read photography books.
"Read the books of Rembrandt, read the books of da Vinci... Rembrandt was a master of light, but he was a painter."
With all his accumulated wisdom, he longs to pass down his passion for the camera ? analogue or digital ? but with the very traditional ideals that have shaped his life and work.
"Ego is our greatest enemy. If you have that you will never see.
"Do not rush. Nature has always been there; it has never rushed. So why should you? Nature is very secretive.
"But if you have the patience, if you have the right attitude, the right way of looking, she will open her doors for you."