The riches of Tibet
By Joanna Lobo, DNA India, Oct 28, 2012
Mumbai, India -- The Buddha may have lived a simple life and advocated the middle path for his followers, but there's nothing average about Buddhist sacred art and traditional Tibetan jewellery." Think of it as a sculpted painting," says designer Sapan More, whose most recent exhibition shows jewellery inspired by ancient Buddhist art.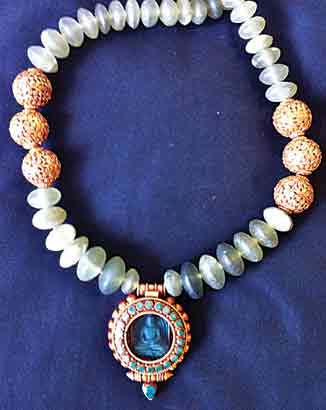 The pieces on display show impressive craftsmanship. Some of her jewellery uses tiny figurines of the Buddha - some no bigger than an inch - carved out of corals and stones, and inlaid with semi-precious stones and silver filigree work. "This is the most intricate jewellery you will find in this part of the world," she says.
More was six years old when she took the first steps towards becoming a designer: she started instructing tailors on how to design her clothes. Born in Kathmandu, her father's Japanese textile business formed her world back then. She didn't know that a few houses away from her home, young boys her age were learning and keeping alive the ancient craft of creating Tibetan jewellery.
By the time More was 21, she was certain she wanted to be a designer. When More stumbled upon traditional Tibetan jewellery, she was inspired by its beauty and skill. As a local, she had an advantage: she met the craftsmen and artists, got to know them well and gained their confidence.
This was necessary because most artists in Nepal - thangka artists, silversmiths, sculptors etc - don't want to share their techniques with strangers. Much of the art and craft that More sources traces its roots back to the art of the thangka. Thangkas are Tibetan silk paintings that feature intricate painted and and/ or embroidered (in gold) Buddhist deities, scenes and mandalas (geometric patterns that have different significance in Buddhist culture, representing the universe or serving as a receptacle for deities).
"Their craft is very clannish. They will not let it get out of the family," says More. Unfortunately, most of Nepal's younger generation isn't particularly interested in carrying on these traditions.
More, who has lived in Mumbai for the past 15 years, now visits Nepal every few months, partly to see her parents and to source more jewellery. Finding Tibetan jewellery in Nepal is easy but not all of it is genuine and neither is it necessarily of high quality. "Ever since the fall of the royal family about a decade ago, things have turned worse in Nepal. The economy isn't great and tourism is extremely scarce. Most artists prefer making and selling low quality products at cheaper rates because they sell more," says More.
Most of the Tibetan jewellery that More has displayed is based on Tibetan Buddhist traditions that find their way into pendants and bracelets; usually taking the form of Buddhist deities and motifs placed on circular backgrounds. The motifs are all handcrafted on material like coral, shell and turquoise. Some are studded with precious stones like rubies and emeralds. The designs are Tibetan; the silver is Indian and the bejewelled details may be sourced from places as close to home as Jaipur or as far-flung as Japan and China.
Some of the items on display are original pieces that she bought back from her Nepal trips and others are her own original designs. Usually, More's contribution to the jewellery is at the planning stages, when she gives her colour and size preferences to the artists. More's designs retain the traditional heft and boldness of Tibetan jewellery. "They do a lot of work with copper and silver and occasionally on 24 carat gold," says More. Once the elements that the Nepali artisans are making for her have been completed, she adds beads and string accents to create the final piece.
More hopes that by displaying such works, she can help people understand that Tibetan jewellery, no matter how heavy or traditional, can work well as a fashion statement. Which is why many of her designed pieces can be matched with the clothes that are also on display. "It's all a matter of design," she says.
Sapan More's Treasures from Tibet will be on till Sunday, October 27 at Artisan's art gallery.