Siam Society to host 'Woven Miniatures of Buddhist Art'
Fibre2fashion.com, January 4, 2014
Bangkok, Thailand -- The Siam Society will host a talk and introduction of Mr. Ralph Isaacs' book 'Woven Miniatures of Buddhist Art – Sazigyo' on Thursday, January 9, 2014.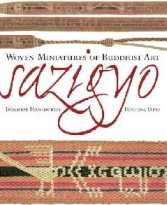 Mr. Isaacs will describe sazigyo—tapes or ribbons which were used for binding bundles of palm-leaf manuscripts in Burma/Myanmar. The woven bands were commissioned by Buddhist donors gifting a scriptural manuscript to a monastery to make spiritual merit in order to attain a better rebirth and ultimately nirvana.
The texts display the creative exuberance of the weavers and reveal the cultural and religious sensibilities of their times. The weavers employed a double-faced weave which enables complex script, decorative motifs and miniature pictorial images. Some of these tapes show breathtaking skill. The craft flourished for a couple of centuries, but is now extinct.
Mr. Isaacs will also introduce his book about sazigyo, written at the urging of master weaver Peter Collingwood, who considered sazigyo weavers among the best ever and deserving of posthumous recognition.
The book is intended as a tribute to weavers of genius and a celebration of a craft now extinct. It is dedicated to Peter Collingwood's memory, and published by Silkworm Books with a grant from the James H. W. Thompson Foundation.
Writing a book on this subject presented special problems, which will form the second parallel theme of Mr. Isaacs's talk. Obtaining, sorting and classifying almost a thousand illustrations, most of them the size of a postage stamp, was one challenge.
An excellent book designer helped avoid the stamp-album look. Many of the small pictures are symbols of Buddhist belief, and some reflect magical practices. They had to be grouped and positioned to reveal their relation to the Buddhist social and religious context in which the weavings were commissioned, woven, donated and used. Mr. Isaacs will sign copies of his book.