Photographic journey of Buddha's life
By BAVANI M, Photos by CHUA KOK HWA, The Star, May 18, 2005
Kuala Lumpur, Malaysia -- The majestic sculpture of a sixth-century Parinirvana Buddha, discovered inside the Ajanta caves in India, evokes a feeling of calm and serenity in those who gaze upon it.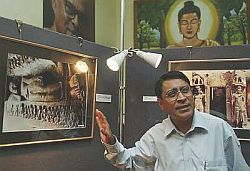 << Behl with photographs of Buddhist religious sites.
The sleeping posture of the Buddha seems so peaceful and beautiful ? parinirvana is the final renunciation stage, when the religious teacher left his mortal body at Kushinagar in India?s Uttar Pradesh state ? that one cannot help but feel joy when gazing at the sublime photograph of the Buddha.
In fact, similar emotions are also felt each time one looks at other photographs of Buddha.
The images captured at India?s Ellora caves are equally captivating, as are those taken at the Peshwar Valley, in Pakistan.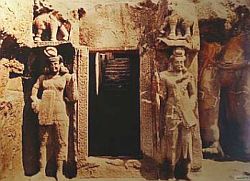 A photograph of a Buddhist heritage >>
site by Benoy Behl that is on display.
These photographs, captured by renowned art historian cum photographer Benoy K. Behl, are currently on exhibit at the P.H. Hendry Memorial Hall, Buddhist Maha Vihara, Jalan Berhala, Brickfields.
Behl took the photographs during visits to Buddhist sites all over the world since the 1970s.
The exhibition, entitled Path to Happiness, is also a representation of the influence of Buddhism in different parts of the globe.
To Behl, though, the photographs are not just evidence of a flourishing faith but a representation of the truth.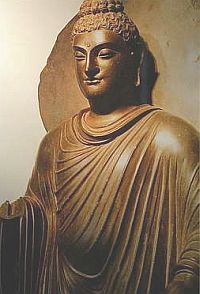 << Simply entitled 'Buddha,' this photograph was taken by Behl when he visited the Peshwar Valley in Pakistan.
?They provide a deep insight into the gentle and compassionate message of the art as well as Buddhist culture and heritage,? he said.
The photos also take viewers on a visual journey of Buddha?s life and the birth of Buddhism - Buddha's birthplace and the spot where he obtained enlightenment, the first sermon he gave and the final renunciation.
About 40 photographs depicting Buddhist heritage sites in India, Bhutan, Thailand, Japan, Nepal, Mya-nmar, Sri Lanka, Cambodia and Vietnam are featured in the exhibition.
The exhibition, which is being held in conjunction with the Wesak Day celebrations, runs until May 23.