Asia Society to highlight Myanmar Buddhist art
Mizzima, Nov 24, 2014
Yangon, Myanmar -- The Asia Society Museum exhibition will seek to highlight the beauty and diversity of Buddhist art in Myanmar. Photo: Asia Society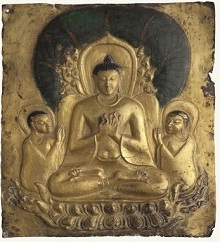 The Asia Society Museum in New York will display what they claim is the first exhibition in the West focusing on works of art from collections in Myanmar.
The exhibition will run from February 10 to May 10, 2015 at the Asia Society Museum on Park Avenue, New York in the United States.
The organizers say "Buddhist Art of Myanmar" will comprise of approximately "70 spectacular works" - including stone, bronze and wood sculptures, textiles, paintings, and lacquer ritual implements - from the fifth through the nineteenth centuries. Artworks include objects created for temples, monasteries, and personal devotion, which will be presented in their historical and ritual contexts.
It will be shown at a time when Myanmar is opening up to the world, following decades of military rule, and when more international interest is being shown in the country's culture and history.
According to the organizers, the exhibition will explore how Buddhist narratives were communicated visually and the multiplicity of regional styles. Many of the works in the exhibition have never been shown outside of the country.
Works will be on loan from the National Museum of Myanmar in Yangon and Nay Pyi Taw, Bagan Museum, the Kyauktaw Mahamuni Museum, Sri Ksetra Museum, and the Kaba Aye Buddhist Museum, as well as works from public and private collections in the United States.
The exhibition is organized by guest curators Mr Donald M. Stadtner and Ms Sylvia Fraser-Lu in conjunction with Ms Adriana Proser, Asia Society's John H. Foster Senior Curator for Traditional Asian Art.