How this journalist's tryst with the Dalai Lama changed his life
by Srijani GangulyIndia Today, April 15, 2016
New Delhi, India -- 1972 was the year when journalist Vijay Kranti took up the assignment of photographing Dalai Lama, what followed was a four-decade long association with the Tibetan world.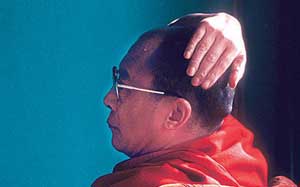 << Dalai Lama as seen through the lens of Vijay Kranti. Photo: Mail Today
As a young journalist, only two years into the profession, Vijay Kranti was offered the opportunity to do a story on the Dalai Lama. His editor put the assignment across as a challenge: If he could manage an interview then it would be the cover story.
The year was 1972, there was nothing called the Internet at that time but Kranti managed to gather as much information as possible, made a request to interview the Dalai Lama and got the access. That was the beginning of Kranti's four-decade long association with the Tibetan world.
Since there was no photographer with him on that fateful 1972 assignment, Kranti used his own skills as a photographer. Those skills developed further more along the way, and led Kranti to gather close to three lakh pictures of the Dalai Lama and the Tibetan population over the years. It also allowed him to hold several photo exhibitions as well.
The latest one, 'Thank you Dalai Lama', is the concluding show of his five-year-long photofestival titled 'Buddha's Home Coming' which began in 2011 in Spain. (He recently got an offer from the Tibet House in Germany to plan a similar exhibition over there.)
'Thank you Dalai Lama, which is on display at AIFACS till April 15, contains about 300 photos along with slide shows based on over 500 images.
"There were two factors that helped me choose the kind of pictures I wanted for the exhibition," says Kranti. "The first criterion was to showcase the personality of the Dalai Lama and the second was to show what the Dalai Lama and the Tibetan refugees have achieved in the last 57 years. They have basically reconstructed their entire culture over here."