The Beautiful Buddhist Figures of Aung Kyaw Htet at Agora Gallery NYC
The Buddhist Channel, May 19, 2016
NEW YORK, USA -- Chelsea's Agora Gallery will feature the original work of Myanmar artist Aung Kyaw Htet in A Moment in Time. The exhibition opens on May 20th, 2016 and runs through June 9th, 2016 with an opening reception on May 26th, from 6 – 8PM. Any art lover who enjoys thought-provoking artworks and meeting talented and interesting artists is encouraged to attend.
About the Artist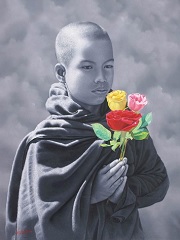 Myanmar artist Aung Kyaw Htet paints detailed Buddhist figures on expressionistic and sometimes ethereal backgrounds. With a strong emphasis on the figurative and facial expressions in particular, he expertly combines color, line, and form to achieve balanced compositions, as peaceful to experience as they are beautiful to look at.
Born and raised in a poor village in the Delta Region of Myanmar, Aung Kyaw Htet has been profoundly influenced by Theravada Buddhism and his time spent living in a monastery. Much of his art is centered around Buddhist principles and themes, and the simplicity, sincerity, and inherent beauty that is achieved in the Buddhist way of life. As Aung Kyaw Htet explains, "I learned that Buddhism gives you peace of mind and reinvigorates the body. I want to educate other people about the teachings of Lord Buddha." He often paints the emotions and aspirations of young monks and nuns thus depicting their humanity rather than as religious (Buddhist) symbols.
Aung Kyaw Htet currently lives and works in Yangon (Rangoon), Myanmar (Burma). His paintings can be found in the collections of the National Museum of Myanmar and the National Gallery of Malaysia, and his work is featured in the monograph book, 'Aung Kyaw Htet: Myanmar Inspirations' written by Shireen Naiziree.
Exhibition Dates: May 20, 2016 – June 9, 2016
Reception: Thursday May 26, 2016, 6:00pm - 8:00pm
Gallery Hours: Tues-Sat 11-6
Gallery Location: 530 West 25th St, Chelsea, New York
Event URL: http://www.agora-gallery.com/artistpage/Aung_Kyaw_Htet.aspx