A Buddhist odyssey
by SMITA ROY CHOWDHURY, The Telegraph, July 23, 2005
Calcutta, India -- Encasing emptiness, celebrating the simplicity of shapes and forms, merging darkness with light ? lifestyle store Hugli is paying a tribute to Buddhism with an exhibition that captures the essence of the religion. Scripts of Lord Buddha?s sermons written in Pali adorn the walls of the plush studio, done up beautifully in red, black, white and orange ? the colours of Buddhism.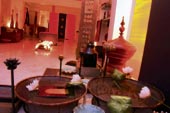 << The Buddhist offerings at Hugli. Pictures by Rashbehari Das
Titled A Buddhist Offering, the exhibition is on till July 24, open between 10.30 am and 7.30 pm.
?I had picked up some objects from the Far East, Burma and various parts of India. While looking at them later, I found a common string binding them. The shapes, forms and textures opened my eyes to something beyond the mere material products and so I decided to present them as a tribute to Buddhism,? says proprietor Madhulika Khaitan.
Separate sections of the store present different principles, teachings and philosophies of the religion. The journey starts with ?Coming Into Being? where lotus-shaped candleholders and ceramic bowls, baskets and stupa-like boxes are arranged in a manner to signify a path to leading to emptiness.
A pair of wooden doors bearing small statuettes of Buddha open into the next section where the racks offer mats, boxes and baskets made of black and red lacquer. A light arrangement on the floor done by artist Chitravanu Mazumdar denotes ?Opening of Our Eyes?. A table full of small red sweets wrapped in red cellophane, meant for the guests to pick up, signifies ?Nothing Depletes?.
A bright red wall, which matches the colour of the ceiling, is adorned with wall-plates in stone and copper that portray different phases of the moon.
The candle corner, offering wax works of various shapes and sizes, bears the message of the ?Law of Impermanence?. ?Impermanence is one of the main ideas in Buddhism and candles are the most tangible yet impermanent objects. Hence all the labels of the various sections are written on wax,? explains Khaitan.
?Daring to Live? draws on the short life span of flowers, with everything from small napkin rings, towel hangers and candle-stands to huge planters and vases presenting a floral feel.
The ?Ahimsa? racks are filled with animal shapes ? on keychains, window decorations and paperweights. Strings of ceramic bells preach the ideal of ?Listening to Our Senses?.
The ?Giving? section houses spatulas, spoons and scoops made of wood and stones. ?Form, the Support of the Mind? highlights the simplicity of shapes of decorative objects.
The other offerings include table-mats, runners, bookstands, bins, sauce dishes, bags, trays and lots of other home décor knick-knacks in materials ranging from cane, reed, rope, wood, lacquer, wax and ceramic.
The prices start at Rs 70 and go up to around Rs 10,000.
Meditation chants from Tibet and other Buddhist chants and soft light installations create a calm and serene ambience and complete the Buddhist experience at Hugli.