Masterstroke by master painter
Story and photos by JARUNEE TAEMSAMRAN, Bangkok Post, July 28, 2005
Chalermchai Kositpipat digs deep to create a masterpiece
Bangkok, Thailand -- The man in blue mor-hom outfit was pacing the temple gallery shouting instructions to workers as they went about their task. He wasn't angry or trying to bully them. It's typical of him to speak loud and strong.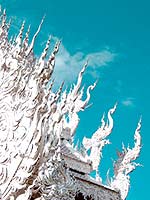 << The unique `kanok' architecture of Wat Rong Khun is already attracting visitors.
Visitors to Wat Rong Khun temple in Chiang Rai Province can often see renown artist Chalermchai Kositpipat immersed deeply in the cause of building a contemporary Thai temple that he wishes to dedicate to His Majesty the King.
Since embarking on the project, which is expected to take 90 years to complete, Chalermchai has stopped taking painting assignments that have earned him his name and wealth. He can be seen at the temple site every morning and evening working diligently to ensure that every architectural plan and design is pursued to the minutest detail. When not there, he is in his office monitoring progress from there.
"I look after everything from planting trees and collecting garbage to cleaning the compound," said Chalermchai.
According to him, the temple complex will comprise nine buildings, each with its own distinct architectural style, but all symbolising Buddhist philosophy and dharma.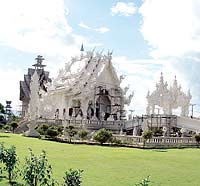 White is a mark of purity and the colour is >>
cleverly applied to heighten the aura of sanctity that surrounds the ubosot.
Since construction began seven years ago, Wat Rong Khun has been attracting a steady stream of visitors. When it's completed it will be a glowing monument to Chalermchai's self-sacrifice and his determination to create a temple that would be a heritage to the world.
"My desire is to make this temple a national and world heritage. And I also want it to represent art and craft that flourished during the reign of His Majesty the King," said Chalermchai, who has been training a cadre of 54 new-generation architects, painters and designers to ensure that work will continue uninterrupted even after he is gone.
"Everything is already planned. I've made sure that there are people who will continue my work even after I am dead.
"I want to be like (Antoni) Gaudi _ the famous Spanish artist who devoted his whole life to build a place of worship. He's the greatest artist of the 20th century who's known all over the world. I want to be like him.
"After I die, I want people to remember me and talk about me in the same vein, as to what I did for my beloved country," Chalermchai said in his customary loud voice.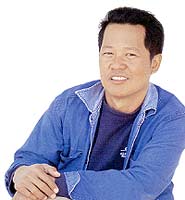 << Artist Chalermchai Kositpipat has committed his remaining life to build Wat Rong Khun temple.
And he wasn't exaggerating. Neither was he bragging or being arrogant, but speaking truly out of his passion to create a masterpiece that will be remembered long after he is gone, and to which he has committed the remaining years of his life.
That passion is reflected in the unparalleled conceptual brilliance of Wat Rong Khun and its majestic architecture.
The elegant kanok architecture of the main ubosot (chapel) stands out. It is done in snow-white colour and from afar it seems to float in the sky. It seems more like a painting on canvass, except that it's for real, an architectural marvel.
"I call it Chalermchai style. It's contemporary Thai style and comes from my own imagination." he said.
In fact, it's not just the form of art that you would appreciate but Chalermchai himself, who has devoted the past 20 years studying Buddhism. He wants the temple to symbolise Buddhist philosophy and teachings. If look around carefully, you will understand that the architecture is an amalgamation of religious symbols.
"White represents the purity of Lord Buddha. The chapel building is like heaven _ his abode. It's the area that represents the human mind," he explained.
Walking into the main chapel, you will be awed by the statue of Lord Buddha which seems to be floating in the timelessness of space. It gives visitors a surreal feel and you start thinking, even if fleetingly, well this could be the abode of god.
Apart from the striking architecture, Wat Rong Khun also houses Chalermchai's personal art gallery. Visitors can admire his paintings and ask for copies for a minimal fee.
Chalermchai also plans to construct the "most beautiful toilet in the world" inside the temple compound.
"It will be a golden toilet with symbols," Chalermchai said. "What I want to present is that while the chapel symbolises the human mind, the toilet is a symbol of their susceptibility.
"And I know people will talk a lot about the golden toilet because they pay more attention to physical objects that have shape and form, but not their mind which is more delicate, complex and not easy to understand," he said.
Chalermchai wants Wat Rong Khun to eventually become a centre for learning and meditation, where people can come and practice dharma and truly benefit from the teachings of Lord Buddha.
When it's completed Wat Rong Khun will be a symbol to one man's dedication to his country, his faith and his king, who sacrificed the better part of his life building a monument that, he hopes, would one day will also become a heritage of the world.