Ladakhis celebrating fortnight-long Ladakh festival
By Jigmet Angchuk, New Kerala, Sept 8, 2005
Leh, Ladakh (India) -- Leh is celebrating the fortnight long Tibetan Buddhist cultural festival. Earlier, the cultural fiesta opened with a procession of hundreds of resplendently attired artists from various regions of Ladakh - Changpa, Nubrapa, Balti and Barokpa walking through the streets of Leh before assembling in the historic Polo ground for cultural performances.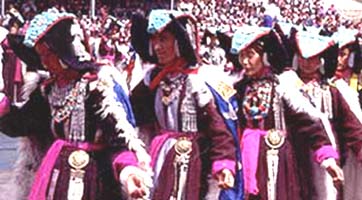 Thousands of locals along with foreign and domestic tourists witnessed the annual extravaganza showcasing the distinct Ladakhi folk culture.
The festival, which was earlier, held in the peak summer months of June and July was shifted in order to attract the tourists to the lean season.
Nawang Rigzen Jora, Minister for Science and Technology, Jammu and Kashmir said that the large number of tourists present was proof that the festival's aim was being achieved.
"It is very heartening to see a very large number of tourists at the festival this year.
The festival was instituted with the objective of lengthening the tourist season. We had only two months of tourist season - July and August. We instituted this festival with the aim of lengthening the season. When I see such a large number of tourists present on the festival today, I realize that our objective is being accomplished," he said.
Locals performed the famous mask dances, a hit among the foreigners, in the ramparts of the monasteries, amidst the backdrop of barren chilly mountains.
Ladakhi people bedecked with gold and silver ornaments and turquoise headgear along with Phoks, Karcholmas, Dekhar, Polo horses, yaks and double humped camels thronged the streets.
To the visitors, the festival offers tourists a unique opportunity to witness the culture of the people who have lived for centuries at the cross-roads of high Asia, receiving and harmonizing cultural and religious influences from various Central Asian societies.
Needless, to say, the festival also gives a boost to the state's tourism industry.
Ladakh and Sindhu Darshan festivals contribute 50 percent to promotion of tourism in the remote region.
Over 15,000 tourists have visited Ladakh so far during the current tourist season and the influx of foreign as well as domestic tourists has increased by 50 percent in the last two years alone.
Historically, Leh is the ancient royal capital and currently the headquarters of the Ladakh region. Situated at a height of 11,500 feet, Leh offers a unique ambience for the festival against stark mountains.
Ladakhis' mesmerizing dances, tempered by religion, are known for their simplicity and direct expressions. Each dance begins with homage to the gods with a deliberately slow movement of the feet. The rhythm slowly picks up in the second stage and reaches a feverish pitch towards the end.