The Chain - Focal Point Gallery Exhibition
The Buddhist Channel, Dec 18, 2005
Southend-on-sea, Essex (UK) -- The near life size portraits contained in this exhibition, by Magnum photographer Chien-Chi Chang, depict inhabitants of a Taiwanese mental asylum where the patients are chained together in pairs, in what is considered to be a therapeutic practice.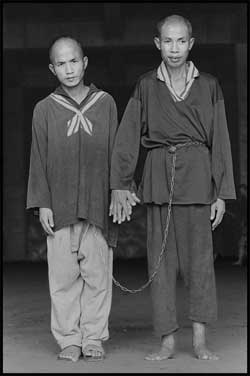 << Chien-Chi Chang, The Chain, C-type Print, 2001
The photographs portray the reality of the patients' existence, showing their facial expressions, shabby clothes, and the chain that binds them together around their waists day in day out. These images are painful to view, but yet at the same time are supremely touching and beautiful.
These men are considered social misfits by society and are sent by their families to Lung Fa Tang, A Buddhist sanctuary and Taiwan 's largest chicken farm with a workforce of nearly 700 mentally ill inhabitants. As part of the treatment program two patients are linked together by a small chain and the more stable of the two patients is to supposed assist the other in their daily chores.
Chang is fascinated by the human conditions of alienation and connection, freedom and restriction and normalcy and madness within this work. He has been member of Magnum Photos since 1996, and lives in Taipei and New York City .
The twenty-four images are an edited version from the forty images presented at the Venice Biennale in 2001 and at Sao Paulo Biennale in 2002. A Magnum Photos Touring Exhibition in association with Ffotogallery.
A series of informal talks and events has been programmed to coincide with the exhibition in conjunction with Alison Williams of the mental health charity rethink. Through these events we aim to examine in a wider context images and attitudes towards mental illness.
Exhibition information:
Phtotographer: chien-chi chang
When: 3 December - 14 January 2006
Where: Focal Point Gallery, Southend Central Library, Victoria Avenue, Southend-on-Sea, Essex, SS2 6EX, UK
Exhibitions: 01702 534108
Education: 01702 534109