Important Buddhist manuscript revealed at i4uuu
The Buddhist Channel, Jan 18, 2006
Taipei, Taiwan -- A momentous manuscript in Buddhism, Mumonkan, the Gateless Gate, is being exhibited by the i4uuu Museum. Dated 1246 AD, the original manuscript of Zen Mumonkan (Chinese:Chan Zong Wu Men Guan) in the i4uuu Collection is published for the first time. A special online exhibition is held by i4uuu Collection Museum to debut a 13th Century Zen Mumonkan (Chan Zong Wu Men Guan) manuscript.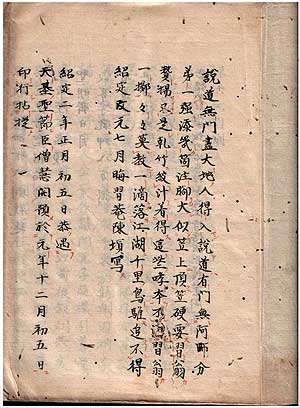 << Mumonkan manuscript, Page 1 (Picture courtesy of i4uuu)
The original manuscript, significant in Buddhism, was written and signed by An Wan Zhu Shi and dated Pin Wu year of Chunyou Period (1246). This special exhibition displays the entire 70 page manuscript in clear, digitized photographs. Viewers of this online exhibition can enjoy Mumonkan text word-by-word in original 13th Century Chinese characters.
Mumonkan, The Gateless Gate, was originally compiled and published in the first year of Shaoding Period (1228) by Zen master, Wu Men Hui Kai (1183-1260). The book ranks with the Christian Bible and Muslim Koran as one of the most important religious books. It is a collection of Zen Koan (a subject for contemplation in Zen Buddhism, usually one of the sayings or significant incidents of a great Zen master of the past). The 70-page manuscript is written with black ink on paper. All pages are dotted with red ink notations by earlier Japanese collectors.
The history of Mumonkan circulation is intriguing. It was originally published in 1228 by Wu Men Hui Kai of Southern Song Dynasty in China. Not widely circulated in China between 1228 and the early 1400's, no Chinese document during that period ever mentioned this book. A Japanese monk by the name of Kan Yuan published a printed version in 1405. It is reasonable to assume that the i4uuu museum 1246 A.D. manuscript provided the original text for that Japanese publication in 1405. The 1405 edition also included complete final colophon by the writer (An Wan Zhu Shi) of the 1246 manuscript.
This explains the Japanese red ink notation, which is commonly seen in early Chinese documents collected by Japanese. After publication, several Japanese and Chinese editions started to surface based on the 1405 edition. The book started to be widely circulated among those interested in Buddhism throughout Japan and China.
When the western world became interested in Buddhism through Japanese influence, Mumonkan became a very important subject of study. All English translation were based on the Japanese 1405 wood block book or its later edition, this is why the Japanese name, Mumonkan, instead of Chinese name, Wu Men Guan, is used in English. There are several slight textual differences between the Japanese version and this 13th Century manuscript. The complete digitized text of this 13th Century manuscript now at the online museum allows scholars to make detailed word-by-word comparison between the commonly-known text and the Mumonkan in its original form.
In addition to the historical significance of text comparison among scholars interested in Buddhism, this manuscript is also an important work of Chinese calligraphy from the 13th Century. This manuscript is signed by An Wan Zhu Shi and its calligraphic style is similar to several 13th Century calligraphers such as Zhang Jizhi. This special exhibition displays the entire 70 page manuscript in clear, digitized, close-up photographs. Viewers of this online exhibition can enjoy Mumonkan text word-by-word in its original Chinese character of the 13th Century.
About i4uuu Collection Museum
i4uuu Collection Museum is a museum established by the internet conglomerate, i4uuu Group. The i4uuu Collection consists of more than 2000 important Asian art works collected over 20 years. The Collection is known for its holdings of Asian sculpture, East Asian painting and calligraphy, oriental ceramics and art from Buddhism. Notable art works are Original Zen Mumonkan Manuscript, paintings by Toyo Sesshu, Kano Tanyu, Kano Motonobu , Chinese bamboo brush holder by Zhu Sansong, and a massive Asuka Period (7th Century) bronze Buddha's hand.
The Museum website is http://arts.i4uuu.com/. Exhibition Website: http://mumonkan.arts.i4uuu.com/.